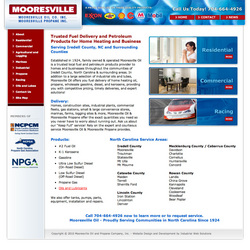 Internet marketing is not easy for a small business
Charlotte, NC (Vocus) November 2, 2010
Home heating and fuel delivery company Mooresville Oil, Inc. couldn't be happier since partnering with the marketing firm AIMG. Family owned and operated, Mooresville Oil is a local small business that serves Iredell, NC and surrounding counties. The company wanted to develop its presence online in order to increase brand reach and awareness as well as the acquisition of new home heating customers.
"Internet marketing is not easy for a small business," states Charles Graham, owner of Mooresville Oil. "We didn't understand why our website wasn't performing well or even what could be done. But after just a short time, our Account Rep Jon Rodman and AIMG's local marketing team has brought us outstanding results we couldn't have imagined would happen so quickly. Within two short months of launching our new website and internet marketing strategy developed by AIMG, our website traffic is up 98%, we have written new business, and we're getting calls every day!"
AIMG's Local Marketing Division was established specifically to help small and medium sized businesses in branding and marketing to local audiences in the areas they serve. Joe DeMicco, President and Owner of AIMG says, "Small business owners, in particular, often don't have the personnel or the time to dedicate to local marketing in ways that would help them effectively reach and convert their targeted local customer groups. Also, many internet marketing programs have a global focus and end up way out of the price reach of most small businesses. After almost 20 years working with companies of all types and sizes, AIMG can customize the research and resources we have to help any small business reach its local audiences and goals. Our work with Mooresville Oil is a good example of the kind of results we are able to achieve with a company that is ready to follow a disciplined, strategic plan."
"It's great to have a knowledgeable company that's a pleasure to work with," says Mandy Dellinger, Marketing Manager for Mooresville Oil. "By making sure we do the right things in the right order, Joe DeMicco and his team at AIMG has helped us manage costs while growing our business."
AIMG Local Marketing Division works with small and medium sized businesses of all types who are interested in branding and marketing to a local audience in the specific areas they serve. Services include geo-targeted website design, blogs, search engine optimization (seo), search engine marketing, online reputation management, and local directories and listing claiming services. Interested businesses should call (704) 321-1234 or visit AIMG Local Marketing Division online.
About AIMG | Accurate Imaging
AIMG | Accurate Imaging is a full service global marketing and web development agency, headquartered in Charlotte, NC, that serves clients in the United States, Canada, Europe and Australia. It offers website design, search engine optimization, custom application development, consulting for business, publicity and marketing, and design and management services for multi-channel initiatives including online, print, commercial video production, and broadcast radio and television. AIMG's divisions include NOA Marketing Division specializing in the needs of non-profits, organizations and associations, and the recently established Local Marketing Division serving medium and small business 'brick and mortar' and service providers targeting cities, counties, and regions. Visit http://www.aimg.com or call (704) 321-1234.
About Joe DeMicco
Joe DeMicco has been an online and marketing consultant for almost 20 years. He started his flagship company AIMG | Accurate Imaging in 1994. He has worked as a consultant and produced content for companies like BMW, Discovery Communications, Publicis, Thomas Register (ThomasNet), Net2Phone, Robotic Industries Association, Automated Imaging Association, Hose-McCann Communications, and Excite Media Group. In 2007 he established Industrial Web Solutions, which specializes in online and offline solutions for industrial manufacturers. His blog DeMicco.com offers business development tips.
About Mooresville Oil, Inc.
Mooresville Oil, Inc. is a family owned and operated home heating, fuel delivery, and petroleum products company serving residential, commercial, industrial, racing, and agricultural customers throughout Iredell, NC and surrounding counties. Established in 1924, the company is currently under the leadership of Charles Graham. Mooresville Oil is a certified Exxon, Marathon, Coastal, Shell, Pennzoil and Propane Fuels Distributor. Visit Mooresville Oil, Inc. online or call (704) 664-4926.
###