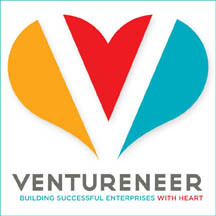 "As the economy recovers, small businesses must get ready to grow. Improving your profits by using information -- much of it already on hand -- is part of that readiness." Geri Stengel, President, Ventureneer
New York, NY (Vocus) June 7, 2010
Improving the bottom line is the goal of all entrepreneurs and small business owners. In a new, free webinar from Ventureneer, entrepreneurs and business owners will learn seven ways to improve that bottom line by increasing sales and reducing costs.
The free webinar, Small Business Profitability Makeover, will take place on Tuesday, June 22, at 2 pm ET.
"As the economy recovers, small businesses must get ready to grow," says Geri Stengel, founder of Ventureneer. "Improving your profits by using information -- much of it already on hand -- is part of that readiness."
In this free webinar, entrepreneurs will learn how to:

Refine pricing tactics by checking out the competition;
Determine which product lines are profitable and which aren't;
Tighten up accounts payable process to improve cash flow;
Save on purchasing;
Determine when outside consultants are needed to cut costs, such as insurance, rent and utilities;
Create an annual budget and use it effectively;
Manage expenses through accountability.
"The profitability techniques taught in the webinar can help any small business owners see new sources of profitability," says David Rudofsky, instructor for the webinar. "It's information that every small business owner needs to know whether times are good or bad."
Rudofsky is a business consultant who advises clients on how to optimize their business' profitability through cost management, financial and strategic planning, and competitive analysis.
The Small Business Profitability Makeover webinar will be useful to all small business owners and entrepreneurs who want to make the most of their bottom lines.
Sign up for Small Business Profitability Makeover webinar
About Geri Stengel
Geri is founder of Ventureneer, an online education and peer support service. She honed her online experience at companies like Dow Jones and Physicians' Online. Geri co-founded the Women's Leadership Exchange and is president of Stengel Solutions, a consulting service for social-impact organizations.
About Ventureneer
Ventureneer.com provides nonprofit and small business advice as well as entrepreneurial and nonprofit training through a new approach to learning: a blend of traditional, formal instruction with informal, peer learning that takes advantage of Web 2.0 technology to capture and share knowledge. Ventureneer's customized blogs, virtual classes, peer-to-peer learning, coaching, web events, and articles help entrepreneurs make faster, better decisions for their enterprises.
# # #