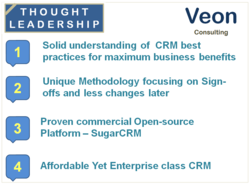 Best Practices for Long term growth, our understanding of typical challenges of small and medium enterprises coupled up with affordable commercial opensource platform has helped us grow
Houston, Texas (PRWEB) January 17, 2013
The officials at Veon Consulting Pvt Ltd revealed that their small business customer relationship management (CRM) division has seen a YoY growth of over 250% in 2012. The officials revealed that they see immense traction in small and medium enterprises who want to migrate from legacy, custom built, or costlier options to affordable yet enterprise class CRM solution. The driver for most of the CRM implementation is to increase revenue, profitability, customer acquisition rate and decrease customer attrition figures. The same is the case for first time CRM implementations where users appreciate intuitive and user friendly interface. The average customer satisfaction for CRM engagements, the officials mentioned is 4.8/5.0 which is among the highest in the industry. The focus verticals mentioned are Real Estate, Manufacturing, Financial Services, Service and Supply Chain.
When asked about what lies underneath this success,Shailendu Verma, Partner at Veon Consulting Ltd, says "Our methodology ensures thorough understanding of KPIs, maximum use of out-of-the-box features, rigorous adherence to best practices and consultants bringing their knowledge to work from over 150+ past CRM implementations. On Top our no-shortcut approach coupled up with flexibility and robustness of SugarCRM ensures a high ROI for our customers ….. most of them have made us their trusted long term partner, which indeed is a testimonial to our success".
Highlighting the latest success stories, the official mentioned a cutting edge Sugar CRM Implementation and Customization for a South Carolina based Fabric Wholesaler. The Implementation required elaborate Territory Management, integration with Magento E-commerce and Google Maps and enormous data migration from the MS-ACCESS legacy. The implementation has helped the customers improve their sales KPIs by 25%.
Another success story shared was of California based Home Mortgage Company where SugarCRM Implementation helped the customer in managing various types of business partners associated with a loan process. The implementation also helped the organization in running their large volume Tele-calling campaigns by evenly scheduling the activities for Tele-callers agent and providing management reports for tracking of the campaign progress and ROI.
About SugarCRM
SugarCRM is a leading small business CRM solution which provides immense flexibility and lowers total cost of ownership of the solution. It's a trademark of California based SugarCRM Inc.
About Veon Consulting Ltd
Veon Consulting Pvt Limited are thought leaders in small business CRM consulting and senior members of SugarCRM Community. They work extensively on SugarCRM Customization, Consulting, Implementation, Migration, Upgrade and Integration assignments. They have a global footprint across USA, Europe and South East Asia. They have delivered solutions like SAP SugarCRM Integration, Territory Management Solution, Google Maps Integration and Real Estate Management.