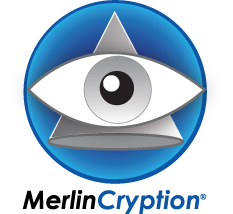 Keys and passwords can be changed for every transmission in less than a millionth of second.
Austin, TX (PRWEB) October 31, 2012
Small, fast, and extremely flexible, MerlinCryption's solution, with <71KB file-based and <25KB in-memory encryption, enables M2M, SCADA, and Military clients with invulnerable protection, where small memory capacity historically precluded security. Sub-second speed facilitates streaming data security where time constraint has previously challenged protection.
"Many industries, such as the power-grid is challenged with finite memory space. Others, such as the film industry, succumb to ripper attack because most encryptions are too cumbersome and slow to adequately protect streaming video," explains Paul (Prem) Sobel, Founding CTO MerlinCryption, "Our sub-second in-memory solution fulfills size and speed demands with exponentially secure encryption."
Static encryptions, such as DES, RSA, and AES, produce simple short key strands, which continually repeat in cyphertext, Short, fixed-length, identifiable keys, and detectable, predictable key transfer represent two major weaknesses in encryption security, making keys the primary target of today's attacks.
MerlinCryption's key method eliminates these two major weaknesses with variable-length keys that scale between 2008 bits and 2GB, which are underscored by variable-length passwords up to 64KB. Keys and passwords can be changed for every transmission in less than a millionth of second. Although keys are large and changing, the impact to memory is negligible.
A patent pending random data generator that outputs keys and passwords, which are 'generated-destroyed-recreated' on demand, makes key/password transfer between end points unnecessary. The communication and storage of encryption keys and passwords are not needed, circumventing criminal interception and spoofing.
Unlike failing encryptions, the superior Anti-Statistical Block Encryption (ASBE) algorithm is not subject to attack models and methods of Cryptanalysis. Standard statistical analysis and any attempt at byte frequency cannot crack it.
Every M2M transmission is different and no two encryptions are alike: Each encryption process always results in a different cyphertext with varying length, even when repeating the same key, password, and plaintext to encrypt. Customization of each encryption engine, which is distinctive to each particular company's system, is not interoperable with any other custom engine. MerlinCryption Encryption Security Platform contains special components that dynamically alter the generated data, exponentially increasing security.
MerlinCryption's security platform runs a scripted controller, which integrates end-to-end processes into a tightly customized and impenetrable sequence of execution. The controller automates each machine node during end-to-end encryption, decryption, and authentication processes. Scripting is uniquely designed based upon the individual organization's security needs and product structure.
User-defined scripts dynamically calculate and feed parameters to the scripted programs. This calculation algorithm is changeable and runs any sequence of programs, uses any parameters, and uses data from multiple sources.
Specifically developed for machine-to-machine, embedded, and OEM environments, MerlinCryption is portable to any CPU. Encrypted data-payloads can be sent over any transport mechanism, on any communications protocol, and any network. Software is written in C# for Windows and in C for DOS, Linux, and QNX.
ABOUT MerlinCryption LLC
The Smart-World's Smart-Encryption™ software company in Austin TX, MerlinCryption develops encryption and authentication solutions that protect against counterfeiting, cloning, software compromise, physical machine compromise, and man-in-the-middle attack, designed specifically for the embedded and M2M (machine-to-machine) market.
The unprecedented security platform protects integrity of data-at-rest, data-in-motion, data-in-use, and data-in-change as it is created, viewed, edited, shared, stored, and moved across communications channels and through the Cloud. The encryption is NSA reviewed, BIS approved for export, and OFAC compliant. The cryptosystem enables compliance with FDA, HIPAA, and HITECH. http://www.MerlinCryption.com.