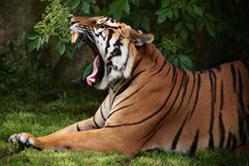 This tour focuses in each area visited on the local people and their culture – a truly personal and fascinating introduction to the wonderful world of unspoiled Asia.
Boston, MA (PRWEB) September 08, 2012
The number of travelers who flock, year after year, to classic European destinations is remarkable—yet understandable. The art of Florence, the cultural treasures of Paris, the romance of Venice. It is no wonder that these destinations with their inexhaustible riches draw us back again and again. And yet, after a while there is an urge to branch out and explore less-traveled areas and visit more exotic or remote destinations, which offer different, though equally fascinating, cultural and historical treasures. This is the motivation for a unique 3-week tour of Asia recently announced by small group tours operator, Olde Ipswich Tours.
The tour, which runs from March 10—31, 2013, begins and ends in Malaysia and will explore the islands of Singapore, Sumatra, and Borneo. Although traveling through remote areas of exquisite natural beauty, travelers will stay in six luxury hotels throughout the three week journey.
The first cultural destination is the Minangkabau Highlands of West Sumatra. An idea starting point for any new traveler to this part of the world, this oasis of culture, peace and sanity is nestled among the fertile soil of volcanoes and home of the cultured, matrilineal Minangkabau people. These highly educated Muslims define their family as "those of the same womb" so all property is inherited by females of the clan. This undiscovered paradise has great food and pride in local art and culture.
The next destination on the tour of Asia is Borneo, beginning in Kuching, Sarawak which has its own history, culture and folktales. It was the home of the white Raja Brookes who convinced the Dyaks to stop hunting heads just before many of them became extinct. After visiting the city, the travelers head straight into the middle of Borneo to Mulu National Park's lush virgin jungle where we stay at the Royal Mulu Resort. Activities include hiking in the jungle, climbing in the caves, swimming in the rivers and being humbled in the presence of nature. Travelers even learn how to cook lunch on a jungle fire.
Return from the jungle is via Brunei with a river boat trip to its famed water village. From there the group flies to Singapore and stays in a Shangri-La Hotel near the historical Botanical Gardens. Travelers enjoy an early morning nature visit that reveals a tropical jungle in harmony with history, culture and art. Then, on to some of the area's most fabulous attractions: the Jurong Bird Park, the Singapore Zoo, a Night Safari, and the great variety of tasty regional cuisine.
The final leg of the tour is in Malaysia with a visit to Johor's Royal Museum and then on to another UNESCO World Heritage site, Malacca. The town was founded a thousand years ago where the trade winds meet. It hosted a multitude of empires and now is proud to show off its Dutch, Chinese, English and Malay historic sights.
This tour, led by a twenty-year native of Southeast Asia, focuses in each area visited on the local people and their culture – a truly personal and fascinating introduction to the wonderful world of unspoiled Asia.
To find out more about Olde Ipswich Tours's tour of Southeast Asia, please visit http://www.ipswichtours.com/singapore_sumatra_borneo.html or call (877) 356-5163.
Olde Ipswich Tours is a small group tours operator based in Ipswich, Massachusetts specializing in culturally rich, gourmet tours to Europe. For a complete list of upcoming small group tours, or to learn more about Olde Ipswich Tours, visit our site today.