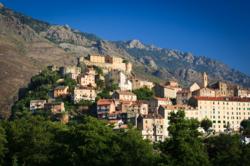 Corsica has ancient villages nestled in the mountain passes; untouched beaches in tiny coves with mountain backdrops; photogenic ruins of medieval castles, decorated with wild flowers and palm trees; the blue, blue sea against the red and purple cliffs.
Boston, MA (PRWEB) February 11, 2013
Travelers seem always to be on the lookout for the perfect destination—or, perhaps, simply for the next wonderful place to visit. Having spent four decades exploring Europe's finest destinations, Jean Moss, owner of small group tours operator Olde Ipswich Tours, has some destinations on her list of favorites that would be no surprise to seasoned travelers: Tuscany and Umbria, the Loire Valley and Champagne, the lakes of Northern Italy, to name but a few. However, during a recent tour of Corsica with long-time friends, Moss became more convinced than ever that Corsica deserves a spot at the top of the list. Here are the eight reasons why she says travel lovers should not miss Corsica.
1. Sunshine. Corsica averages 300 days of sunshine per year. In the month of May, when Moss leads her tour of Corsica, Marseilles is the only city in France that averages more hours of sunshine per day than Ajaccio, Corsica's capital. It's nice to have a sunny day when you are obsessed with photographing spectacular scenic beauty.
2. Beauty. Corsica is a treasure trove of unspoiled natural beauty. "Before I went there to see for myself, I imagined the island to be raw, undeveloped, and only for hikers," said Moss, "But it is so much more: ancient villages nestled in the mountain passes; untouched beaches in tiny coves with mountain backdrops; photogenic ruins of medieval castles, decorated with wild flowers and palm trees; the blue, blue sea against the red and purple cliffs."
3. Natural wonders. You don't have to be a mountain climber or a geologist to be mesmerized by Corsica's rocky beauty. As Moss points out, "The Regional Natural Park of Corsica, which occupies one third of the island, has been designated a UNESCO World Heritage Site. The reserve contains stunning red rock formations, jagged and sheer cliffs, grottos, islets and coves of spectacular beauty."
4. Culture. Because of its unique history, Corsica is comprised of three distinct cultures: Italian, French, and Corsican. "Much of Corsica was settled by the Pisans and Genovese, beginning in the 11th century, and the architecture, culture, food, and language all have a strong Italian influence," Moss says. "But Corsica also owes a lot to the French, since it has belonged to France since 1769." Additionally, Corsicans nurture an independent spirit and blend these cultural traditions into a unique culture all their own. Italy, France, Corsica....what a combination for a vacation!
5. Wine and food. Food and wine. As wine merchant Kermit Lynch said, "Let's say it clear: Corsica is the most exciting wine region in France." Not only are Corsican wines increasingly gaining recognition and awards, they are also very modestly priced. Moss says, "wine lovers will be in heaven." And the cuisine...rich in centuries of influence from both the Italians and French. The island's geography and culture have inspired unique flavors, enhanced by award winning chefs such as Julien Diaz, who has dazzled palates from Bonifacio to Lumio with his Michelin starred creations. Corsica's many excellent restaurants all feature locally grown products: Mediterranean seafood, local herbs from the coastal maquis, herb fed veal, pork and goat, wild boar, charcuterie like nowhere else on earth, fruits and vegetables such as tomatoes, zucchini, eggplants, peaches, clementines, figues. And the olive oil, the chestnuts, the honey—and perhaps most exciting of all—Corsican cheeses from the local goats, cows and sheep. Bruccio has its own AOC appellation label and will stand up to any French brie or Tomme de Savoie.
6. History. If you're a history buff, Corsica will keep you busy. Of course there is Napoleon, Corsica's own hero who was born and grew up in Ajaccio, where you can visit his childhood home and a very fine museum on his life. The Genoese Towers—all 67 of them—were built as defensive fortresses beginning in the 16th century and still stand at regular intervals along the entire coast. All of the present villages and cities were built during the Italian period--11th - 18th centuries. But Corsica's history goes back much farther-- to the pre-Roman civilizations – the Greeks, the Carthaginians, and the Etruscans. And this is only recent history.
7. Pre-history. Centuries before the Romans, Corsica was inhabited by advanced civilizations whose sculptures can still be seen today. Moss says, "The region of Sartène is the prehistoric capital of Corsica, where you can see wonderful dolmen and menhir statues. In Filitosa there are archaeological sculptures and tools dating from the Cardial Neolithic (6,000 BC) period, the recent Neolithic, the Bronze Age, and the Iron Age."
8. Unspoiled. Although Corsica certainly attracts many tourists—mainly in the summer—it has not been ravaged by its visitors. You can go up into the mountains and see shepherds still minding their flocks; watch farmers making sausages by hand; go for a hike in a protected natural park; sit at an outdoor café with a Pietra beer and a hunk of home-made bread and raw sheep's milk cheese and watch life in a tiny village. And if the dream is too much for you, tonight you can dine at a fabulous restaurant on a terrace under the stars overlooking the sea on dishes prepared by a Michelin starred chef, then go to sleep in a five star hotel.
To find out more about Olde Ipswich Tours' small group tours, including their "Authentic Corsica" tour, please visit http://www.ipswichtours.com/corsica_france.html.
Olde Ipswich Tours is a small group tours operator based in Ipswich, Massachusetts specializing in culturally rich gourmet tours to Europe. For a complete list of upcoming small group tours, or to learn more about Olde Ipswich Tours, visit our website today.