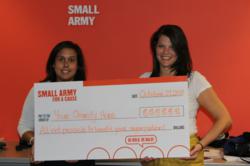 It's a vanity challenge – one that many cancer survivors do not have a choice about.
Boston, MA (PRWEB) June 06, 2011
Today, Small Army for a Cause opened an invitation to all cancer-related 501c3 organizations in good standing to benefit from its 3rd annual fundraiser, Be Bold, Be Bald! – a nationwide event on October 21, where participants wear a bald cap all day to honor cancer survivors and raise money for cancer-related charities.
Unlike most fundraisers that are limited by physical requirements, time constraints or geographical borders, participants in Be Bold, Be Bald! simply need to wear a bald cap for an entire day to honor cancer survivors, and raise money for their act. It's not a physical challenge; it's a vanity challenge – one that many cancer survivors do not have a choice about.
In previous years, only select cancer organizations have been involved in the event, namely The Jimmy Fund, LIVESTRONG®, The Prostate Cancer Foundation, The Susan Love Research Foundation, and The International Multiple Myeloma Foundation. This year, the founding organization, Small Army for a Cause, is inviting others to take part.
"In our first two years of running the event, we were able to demonstrate its nationwide appeal and fundraising potential," states Jeff Freedman, founder of Small Army for A Cause. "Now, recognizing that cancer-related nonprofits of all sizes need to raise money for their unique missions, we wanted to give them the opportunity to use Be Bold, Be Bald! to do just that."
To date, the organization has raised more than $250,000, with more than 2,500 participants across the United States, many as part of student, corporate or organization teams. For a small fee, participants receive a free bald cap to wear on the day of the event, a t-shirt and a variety of online and off-line fundraising tools, including personal online fundraising pages for each individual participant and team. When registering for the event, each participant identifies the charity to which his/her net fundraising proceeds will benefit.
"Be Bold, Be Bald! is a unique grassroots fundraising event proven to engage community members, help fund programs and raise awareness of the needs of those affected by cancer," said Doug Ulman, LIVESTRONG president and CEO. "We are grateful for the work Small Army for a Cause has done to create and expand this event and are pleased to see that more people from the cancer community can get involved."
Any cancer-related 501c3 organization can complete the online form on the Be Bold, Be Bald! website to request participation in the event. All accepted organizations will be added to the beneficiary list on the site, where event participants can select to raise money on their behalf. Participating organizations will also be provided with a variety of helpful marketing materials and tools to help them spread the word among their member communities.
Participant registration is also open on the event website, BeBoldBeBald.org. An early-bird discount is offered at sign-up for everyone that registers before August 15, 2011. Special registration packages are also available for student organizations who would like to participate in the event.
Be Bold, Be Bald! is managed by Small Army for a Cause, a 501c3 organization committed to helping raise awareness and funds for medical-related causes. Small Army for a Cause was founded in 2008 by Boston Advertising Agency, Small Army, in honor of its co-founder, Mike Connell, a 2-time cancer survivor who lost his life to the disease in November 2007.
# # #