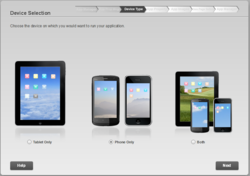 "By using AppExe, our customers can build mobile applications on our cloud platform just once, and then deploy it to smartphones and tablet" - Rakesh Sharma, CEO and President, Mobilous
San Jose, CA (PRWEB) December 06, 2012
Mobilous Inc., headquartered in San Jose, California, is now offering a new cloud-based service called AppExe that businesses can use to create mobile applications, native well as HTML5 browser apps for smartphones and tablets, using an efficient build paradigm. With AppExe, customers can build apps without needing any programming skills, and hosts the app on the cloud.
Rakesh Sharrma, CEO and President, Mobilous, said, "By using AppExe, our customers can build mobile applications on our cloud platform just once, and then deploy it to smartphones and tablets, to run as native mobile apps or on the mobile browser as HTML5 apps. The process is very simple, like using an office suite to build a presentation deck, without using any coding skill. While easy to use, it supports a rich suite of functions for developing fully functional mobile apps for common business functions."
"At Mobilous, we are laser-focused on meeting today's imperative of enterprises and small businesses as they make their business functions mobile-ready. The need for time-to-market, intuitive user flow, and to cost-effectively build similar mobile apps for all platforms and form-factors, and to host and maintain these apps, is something that businesses really need. We believe that AppExe will fill that gap," said Sujoy Bhattacharjee, Chief Product Officer at Mobilous.
Using AppExe, professionals in non-technical roles like sales & marketing, for example, can easily develop applications for mobile devices by themselves without needing programmers. After they sign up, they can easily map their interface navigation by defining screen layouts, configuring the actions and conditions that would cause them. As their build takes shape, they can test it and finally launch it for deployment to mobile devices. Customers can start with a 30-day free trial, and then opt for an Explorer Plan or choose the plan with successively more capacity, up to the full-blown Gold Plan.
Key features of this release of AppExe are:
•Customers can build mobile apps for smartphones and tablets at the same time.
•The completely programming-free interface drastically reduces the time and cost of developing such business mobile apps.
•The native apps it generates can be supported on iOS and Android platforms. The HTML5 apps generated can run on Safari and Chrome mobile browsers quite comprehensively, and on Internet Explorer and Firefox to a large extent.
•Users can develop screens with a free layout, and can use hand-written or wireframe mock-ups as stencils to prototype and design the layout.
•Users can test their app while the build process is ongoing, using real-time simulation for all the platforms supported, thus making the testing process simple and easy to use.
•Users can link the apps to the corporate database by building the data connectors.
•Multiple languages will be supported.
•Users can start with a 30-day free trial and then opt for the Explorer, Bronze, Silver or Gold plans, depending on the capacity needs expected for their apps.
•The 30-Day free trial comes with full functionality available for the plans supported at the time of launch, and is a no-obligation opportunity to try out the platform.
Mobilous is targeting AppExe for firms in the small to mid-size range, so that they can build enterprise grade mobile apps. The company is launching the service in USA, Japan and Singapore, and plans to expand to markets such as China, Europe, and the rest of North America and APAC.
Availability:
AppExe from Mobilous is available now. If interested in the 30-day free trial, sign up at http://www.mobilous.com
About Mobilous:
Mobilous addresses the problem of complexity of making and deploying business mobile applications, by offering a mobile application development platform for the business user, to enhance their productivity as they execute their mobile strategy. The leadership team comprises of Rakesh Sharrma, CEO, who recently took a cloud backup
software company, Opelin, to acquisition by Hewlett-Packard, Akira Miyata, CTO, founder of Digital Vox, Japan and Sujoy Bhattacharjee, CPO, who led mobile products at Kirusa, Inc., a voice messaging pioneer and with Yahoo! earlier. For more information, visit http://www.mobilous.com
Contact:
Sujoy Bhattacharjee
(408) 960-5985
sujoy(at)mobilous(dot)com