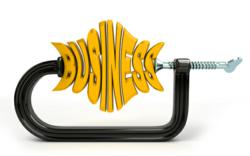 I see the way my company is being squeezed by government mandates, and I am very concerned about the effect this will have on all small business owners and their employees
(PRWEB) October 11, 2012
Mike Kappel, a Canton, Ohio, small business owner, has produced a four-minute video that confronts what he sees as three major threats facing small business in 2012.
"I am not a politician. I am not a political activist. I am not a public speaker," said Kappel, an employer of 60 employees and a self-described serial entrepreneur. He fears how the outcome of the election will affect the 27.9 million small business owners that employ about half of America's workers.
With 25 years experience, Kappel knows why small businesses hire, and why they don't hire. "I see the way my company is being squeezed by government mandates, and I am very concerned about the effect this will have on all small business owners and their employees," Kappel said.
In the video, Kappel focuses on the impact of the impending Tax Cliff, Obamacare mandates, and mushrooming government regulations on employment and hiring. Punctuated with data from his own company, the video argues for change. Supporting research is provided with links from the accompanying blog article "Why Do Small Businesses Hire?"
"All small business owners, including me, need to get the word out," he said. "We are the job creators; not greedy aristocrats. And voters need to understand how certain government policies tie our hands and ultimately keep us from growing our businesses, and therefore, keep us from hiring more staff."
Kappel decided to take action after reading a startling statistic in the Wall Street Journal. "When I saw that only 38% of Americans could correctly define capitalism, I realized that we needed some reminders about free enterprise and the fact that competition and profit are actually good things," he said.
"Americans should redevelop a positive view of profitable businesses and celebrate the entrepreneurship that made this country what it is," he said. "The government needs to let entrepreneurs be entrepreneurs. Let them innovate! Stay out of their way."
Mike Kappel is the president of PatriotSoftware.com, a developer of small business software in Canton, Ohio. In his newsletter, Small Business Expert, he's sharing what he's learned in more than 25 years of being a small business owner in the United States. For more information, visit http://www.SmallBusinessHires.com.