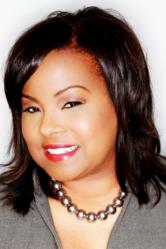 "Everybody has good ideas, but people get in trouble with the business of running a business," says Emerson.
Philadelphia, PA (PRWEB) April 20, 2012
It is no secret that many in our nation are still struggling to make ends meet. From shrinking benefits and salaries to nearly 15 million unemployed, many are turning to small business ownership to fill the gap financially. With 8.5 million Americans choosing self-employment, professional speaker, small business coach and bestselling author, Melinda Emerson's use of social media to provide information to reduce the learning curve for small business owners resonates. She celebrates the third anniversary of her weekly Twitter talk show #Smallbizchat April 25, 2012, which now reaches 1.5 million entrepreneurs weekly.
Whether accidental entrepreneur (choosing to start a business after a layoff) or working a part-time side hustle business, Americans are seeing a silver lining by looking for opportunities to follow their dreams of starting their own business. Still, many risk their family's financial future on half-baked business ideas with no plan. Emerson shared, "Americans are strong. Now is a great time to start a small business with proper planning. People must understand that entrepreneurship can be a dream come true, but there are no get-rich-quick schemes." Known as @SmallBizLady, she coaches those who really want to live the American Dream through her weekly Twitter talk show #Smallbizchat, which is dedicated to ending small business failure.
Emerson launched #Smallbizchat, in April of 2009, as a peer-to-peer mentoring program to help early stage entrepreneurs get answers to their small business questions. "Everybody has good ideas, but people get in trouble with the business of running a business," says Emerson. Nearly 150 shows later she's still helping small business owners achieve their goals. #Smallbizchat's third anniversary show hits Twitter Wednesday April 25, 2012 8-9 pm ET, with guest Alexis Maybank, Co-Founder and Chief Strategy Officer of the Gilt.com, a top members-only shopping website with over 5 million members. Maybank is also the co-author of the new book for entrepreneurs "By Invitation Only: How We Built Gilt and Changed the Way Millions Shop." (http://www.giltfounders.com)
Emerson was inspired to launch #Smallbizchat after writing her bestselling book "Become Your Own Boss in 12 months; A Month-by-Month Guide to a Business That Works" (now in its third printing). Three years later, with nearly 150,000 Twitter followers on Twitter, her message is getting out to an ever-growing community of entrepreneurs. She is a regular contributor to OpenForum.com, SecondAct.com and Entrepreneur.com, BlackEnterprise.com and Essence Magazine. She's made media appearances on MSNBC, Fox News, and NBC News. Her blog SucceedAsYourOwnBoss.com is syndicated by the Huffington Post, and Forbes Magazine named Melinda Emerson #1 Woman for Entrepreneurs to Follow on Twitter. She has also been featured in The Washington Post, The Wall Street Journal, The New York Times, Fortune, USA Today, and Black Enterprise.
Emerson traces her success back to the start of her Twitter talk show #Smallbizchat. "Launching my @SmallBizLady brand on Twitter, and then my weekly interactive Twitter talk show #Smallbizchat, have given me the platform to help millions of small business owners. Our weekly interactive Q&A sessions with business experts, really provides small business owners with actionable information they need. Doing a live show every week is a major commitment, but I love seeing chat participants "get it". That charges me up every time," said Emerson.
The #Smallbizchat third anniversary celebration and its 149th show on April 25, 2012 will feature Alexis Maybank @giltfounder Co-Founder of Gilt Groupe on the topic: "How to have a million dollar membership site", says Emerson. To celebrate the anniversary, she plans to give away copies of her own book, Maybank's book and limited edition #SmallBizChat t-shirts.
How does #Smallbizchat work? Every Wednesday, Twitter users use the hashtag #Smallbizchat to follow and participate in the live interviews Emerson conducts with noted small business experts from 8-9pm ET. The expert guests type answers to questions using their Twitter accounts and hundreds of entrepreneurs join in to learn from Emerson and the guest, plus share what's going on in their small businesses. Expert guests have included best-selling authors and small business experts Michael Gerber, Anita Campbell, Alan Weiss, David Allen and Peter Shankman.
About #SmallBizChat:
@Smallbizchat hosted by Melinda Emerson, @SmallBizLady, is an online community for small business owners whose reach exceeds 1.5 million readers weekly. Committed to creating and sustaining a supportive network where all business owners can find answers and inspiration in their business endeavors. Melinda Emerson is regarded as one of America's #1 Small Business Experts, with a fast-growing online brand providing resources for emerging and existing small business owners. Emerson's corporate clients include Pitney Bowes Deluxe, FedEx, American Family Insurance, Walmart.com and Xerox. Emerson is a Pittsburgh native who now resides in suburban Philadelphia, PA; she is a graduate of Virginia Tech. Connect with her on her site http://www.SucceedAsYourOwnBoss.com.
Editor's note: Melinda is available for interviews, contact her team at publicity(at)melindaemerson(dot)com, or 347-766-4289.