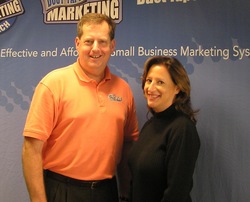 To ensure the program's success, I limited the scope of the initial offering to business owners who excel in their particular industries but who want to expand their own marketing efforts and share their new found expertise with others"
Reston, VA (PRWEB) December 20, 2009
Debra Mendes, Managing Partner of Valens Point in Reston, is one of a growing group of entrepreneurs nationwide selected to participate in the Duct Tape Marketing Authorized Coach program.
"The selection process was quite involved," says John Jantsch, award-winning small business expert and creator of the Duct Tape Marketing system. "To ensure the program's success, I limited the scope of the initial offering to business owners who excel in their particular industries but who want to expand their own marketing efforts and share their new found expertise with others."
"To say that I'm honored to be chosen as a licensee is an understatement," says Debra Mendes. "I realize that the competition for these spots is fierce, so I'm thrilled to be a coach. Now the pressure will be on me to implement the tactics I learn and take my business to the next level."
Debra Mendes receives exclusive rights to implement the Duct Tape Marketing small business marketing system and distribute the Duct Tape Marketing family of small business marketing products. The Duct Tape Marketing system is available for licensing to select small business marketing coaches. For an annual fee, licensees will receive training and a complete system to generate clients.
About Valens Point, LLC:
Valens Point is a management consulting company with the primary purpose of increasing the value of small professional services businesses and the equity of their owners. This is accomplished by creating and delivering services that help build repeatable business systems to generate revenue and provide operations excellence with the ability to produce consistent, reliable and predictable results. To find out more please visit http://www.valenspoint.com
About Duct Tape Marketing:
Duct Tape Marketing is a unique turnkey small business marketing system created by award-winning small business marketing expert and author John Jantsch. Visit the Duct Tape Marketing Blog, a Forbes favorite for small business, at http://www.ducttapemarketing.com
###