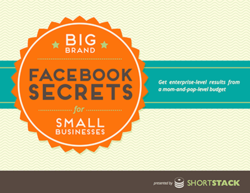 Reno, NV (PRWEB) April 23, 2013
ShortStack, a self-service app building tool, has released a new eBook for Facebook Page owners titled "Big Brand Facebook Secrets for Small Businesses."
ShortStack's latest eBook is available for download on the ShortStack Facebook Page. The seven-chapter book shows businesses how to get enterprise-level results on their Facebook Pages, even if they have a mom-and-pop-level budget.
Chapters include:
Must-Know Facebook Basics
The Advantages of Using Facebook Apps
Fan-gating to Boost Page Likes Fast
Must-Have Apps for Every Facebook Page
Apps to Help Grow Your Email List
Apps that Entertain and Engage Fans
Facebook App Build-and-Launch Guide
"Big Brand Facebook Secrets for Small Businesses" takes the mystery out of how big brands use Facebook to boost Page Likes and engage with fans. ShortStack covers everything from easy-to-implement basics to advanced tips for growing your business on Facebook -- all without breaking the bank.
The eBook focuses on one of the most powerful tools for Facebook Page owners: Facebook apps. Using apps, businesses can run contests and sweepstakes, fan-gate content, build email lists, feature products or services, and integrate with other channels such as Twitter, YouTube and RSS Feeds.
Big brands use Facebook apps in lots of fun ways. For example, Oreo uses custom apps to encourage fans to share photos of them eating their favorite Oreo cookies. And Lay's Potato Chips has made custom Facebook apps a large part of their strategy for their recent "Do us a Flavor" campaign. For that campaign, Lays asked their fans to pick the next Lays chip flavor and has received millions of impressions and interactions on their Facebook Page.
Although big brands have big budgets, ShortStack's eBook shows small businesses how to reach their social media potential within a more limited budget, helping them see the same results as the bigger brands on Facebook. Download ShortStack's eBook today and learn how small business owners can master Facebook.
About ShortStack
ShortStack is a self-service web app design tool that allows individuals and businesses to create custom Facebook apps for their Facebook Pages. The dynamic platform contains more than 40 tools and templates where users can integrate fan-gates, contests, sweepstakes, RSS feeds, Twitter, YouTube, and MailChimp newsletter signups that maximize their social media presence and potential. Custom Facebook apps designed using ShortStack are viewable via a mobile device or PC.