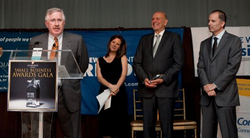 So it's truly an honor to be recognized by them with this award.
New York, NY (PRWEB) October 6, 2009
The New York Enterprise Report recently presented leading small business expert, Jim Blasingame, with its 2009 Advocate of the Year award. This is an annual award presented for outstanding leadership and contribution to small businesses.
Jim Blasingame is recognized as one of the world's leading experts on small business and entrepreneurship. He is president of Small Business Network, Inc., but perhaps is best known as the creator and host of the nationally syndicated weekday radio program, The Small Business Advocate® Show.
"As one of the important thought-leaders for the small business community, Jim Blasingame is very deserving of this award," said Robert Levin, founder and Publisher of The New York Enterprise Report. "Year after year he continues to create original 21st century perspectives and deliver valuable resources that help small businesses seek excellence and find success."
The New York Enterprise Report, in print, online and at its events, features "how-to" articles written by experts for small and midsize businesses in the tri-state area. The Report is the only media in the New York area exclusively for the leaders of growing small businesses.
"For many years I've admired the leadership of Rob Levin and the excellent work of his team at The New York Enterprise Report," said Blasingame. "So it's truly an honor to be recognized by them with this award."
In addition to his radio show, which is also simulcast worldwide on the Internet, Blasingame is a keynote speaker, syndicated newspaper columnist, blogger, author of two books and founder of SmallBusinessAdvocate.com, AskJim.biz, and JimsBlog.biz.
Blasingame is the recipient of the American Chamber of Commerce Executives 2009 Champion of the Chamber Movement Award, the Association of Small Business Development Centers 2008 Champion of Small Business Development Award, and the U.S. Small Business Administration named him the 2002 Small Business Journalist of the Year. TALKERS Magazine named Blasingame one of the most important talk show hosts in America, and Google ranks him as the number one small business expert in the world.
Small Business Network, Inc. (SBN) produces and distributes multi-media small business content worldwide. SBN sponsors include: FedEx, Administaff, IBM and Palo Alto Software.
###