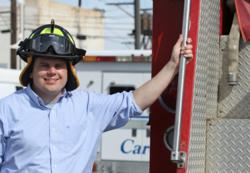 We designed Fusion so that anyone can make a living helping the millions of small companies operating without an online presence.
San Diego, CA (PRWEB) April 18, 2011
Whether he's safely pulling people from a mangled car wreck, or using Main Street Marketing Machines 2.0: Fusion, Traffic Geyser's Internet marketing easy-to-use tool to grow local small businesses online, entrepreneurial firefighter Mike LeMoine works to keep his community thriving.
"I've always been grateful to be a firefighter, but one day, I had an interest in making some extra money during my time off the clock," said LeMoine. "The opportunity to get paid while helping others made itself very apparent with Main Street Marketing Machines, and I had to try it."
With the news focusing on Fortune 500 companies, many people forget to think about the businesses right across the street.
"The media always talks about the big boys of industry, but there are 29.6 million small businesses in the U.S. that makeup 50% of the economy," explained Mike Koenigs, CEO and Co-founder of Traffic Geyser. "These are the stores and professional offices and services that fill the neighborhoods and towns across the country, and they are asking for help because they want to do more online marketing."
With the economy slumping in the past few years, small businesses have started to learn that being on the Web is an important part of increasing revenue. But, according to Ideology, 46% of them don't have a website, let alone a presence in social media.
To help fill this chasm, LeMoine started attracting businesses he wanted to work with by mixing his own, smart ideas with the tools and templates that fill the Main Street Marketing Machines system.
"Mike created a can't-be-ignored move that had clients clamoring for his help," offered Koenigs. "He used that technique—along with our free training—to launch a successful business during a wretched economy, and got his first quickly—four hours of work netted him a $5,000 paycheck."
Click here to read the rest of the story and watch a video explaining how LeMoine started his own business using Main Street Marketing Machines.
Those interested in learning more about marketing to small businesses using Main Street Marketing Machines 2.0: Fusion, can visit
mainstreetmarketingmachines.com, or contact Will Christie, at 800-962-9575 ext. 115, for more information.
Like Main Street Marketing Machines on Facebook: facebook.com/marketingmachines
Think this story is helpful? Read the story on How to Help Local Businesses Succeed in a Down Economy.
About Traffic Geyser and Main Street Marketing Machines 2.0: Fusion:
Traffic Geyser, LLC, is a San Diego-based company developing groundbreaking Web software that helps authors, experts, small businesses and entrepreneurs generate top-ranking websites, active online traffic and multiple leads through the distribution of content to video sites, social bookmarking, social media, blog and podcasting directories.
Their newest product, Main Street Marketing Machines 2.0: Fusion, is a powerful, easy-to-use online marketing system that allows anyone to automate complex marketing tasks associated with promoting local businesses on the Internet.
Brace Ford, Vice President of Marketing
Traffic Geyser, LLC
443-896-6093
brace(at)trafficgeyser(dot)com
buildlocalbusinessnow.com
###