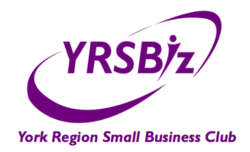 We hope our event will help entrepreneurs by lessening the fear associated with embracing social media, in addition to providing a networking opportunity to meet real business owners using it successfully
Richmond Hill, Ontario (PRWEB) November 10, 2012
York Region Small Business Club is partnering with Startup Canada, CATAAlliance, and the Canadian Youth Business Foundation to host a local event for the Canadian Mentorship Challenge, a national initiative to mentor 10,000 enterprising Canadians over the course of Global Entrepreneurship Week, November 12 - 18, 2012.
The YRSBiz Small Business Tweetup will take place at Alice Fazooli's in Richmond Hill, ON at 7:00 pm on Monday, November 12, 2012. The Tweetup is an opportunity for small business owners all over the GTA to come together to share their experiences of using Twitter for business.
Sandra Eamor, Founder of York Region Small Business Club, said "[W]e believe that social media is more than just a marketing strategy. It's a way to network and build partnerships and relationships."
The presentations – slated to include stories, tips, and best practices from mentors who are successfully using Twitter for small business marketing – will touch repeatedly on the theme of building relationships through communications. One example is the talk being given by Michael Yack, president of small business marketing company FS Local, covering the importance of community to the modern small business. Mike's presentation will be bolstered with support from his FS Local team to answer questions about Twitter's role in building community.
Victoria Lennox, Co-Founder of Startup Canada, voiced her support for the Tweetup. "The transfer of knowledge and ideas is inspiring for everyone involved and contributes to the success of future startups," she noted.
FS Local is a startup based in Toronto, Ontario, that provides marketing, advertising and consulting services for small businesses, with focus on local SEO and social media web marketing solutions. The company is built on the principles of community building as opposed to traditional advertising and is frequently looked to for its expertise in the field of new media.