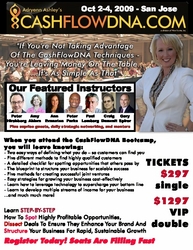 People across the country are jumping on board to bring the CashFlowDNA
San Jose, CA (Vocus) September 23, 2009
For an innovative and enterprising group of small business entrepreneurs, the rocky economy has been a unique opportunity to gain new perspective and reinvent your business. After watching her formerly mega-successful clients hit hard times, Adryenn Ashley, 40, realized what was needed to stimulate the economy wasn't a check, it was a new play book. That's why she created the CashFlowDNA Bootcamp – a community event for the unemployed and non-traditionally employed (including freelancers and entrepreneurs) to learn the business skills needed to thrive in the new economy, network, promote their marketable skills and exchange resources and expertise with others. The first-ever CashFlowDNA Bootcamp takes place Oct 2-4, 2009 at the Doubletree Hotel in San Jose, with an expected attendance of 300-500 people. General Admission tickets are $297, and while some full scholarship tickets are available at no charge, people are encouraged to make a donation that fits their budget.
According to Ashley, "The CashFlowDNA Bootcamp exists to provide an environment for community members to come together and create their own thriving personal economy — whether through starting a company, finding freelance work or leveraging a strategic joint venture." The CashFlowDNA Bootcamp model is based on the concept that all you need is a blueprint, a step-by-step guide to finding the right profitable target market. Then, select a business model that gives you easy access to that market, that is scalable and simple to set up.
As more people lose their jobs from coast to coast, discussion of the appeal and increasing demand for CashFlowDNA Bootcamps has set social media and online communities on fire. "People across the country are jumping on board to bring the CashFlowDNA "Curing Unemployment Tour" to cities hardest hit by the recession such as Flint, New Orleans, Birmingham, Cleveland, New York, Chicago, Detroit, Seattle and Washington, D.C.", said Ashley. "People are realizing that there is no such thing as 'job security' anymore. Now you can be in business in a matter of minutes and market yourself globally. It's a whole new way to work, and we aim to share that knowledge and hope across the country." CashFlowDNA is actively seeking passionate community organizers looking to bring the Curing Unemployment Tour to their own city.
For more information on the event:

Contact founder Adryenn Ashley regarding sponsorships at adryenn(at)cashflowdna(dot)com
Contact Jodi Johnson for media inquiries at jodi(at)wowisme(dot)net
Register for the event at http://cashflowdna.eventbrite.com
Visit the CashFlowDNA website at http://cashflowdna.com
Follow CashFlowDNA on Twitter or Facebook
When and Where
Friday – Sunday, October 2-4, 2009
Doubletree Hotel
2050 Gateway Place
San Jose, CA 95110
# # #