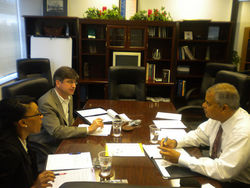 Our meeting was productive, energetic and packed with call-to-action items that could only lead us both to better serving the small business community here in the North Texas region and across the nation"
Dallas, TX (PRWEB) April 12, 2011
The National Business Association (NBA) announced that it met with officials from the North Texas Small Business Development Center Network (NTSBDC), a resource partner of the United States Small Business Administration, to discuss opportunities for small businesses in North Texas. The NTSBDC Network was the proud recipient of a one time grant the Small Business Jobs Act made possible by the Small Business Administration.
In addition to its array of programs, the NTSBDC will now be able to:

expand services to veterans by providing focused outreach, counseling and training;
assist small business clients in retaining and creating jobs by focusing on existing businesses in the areas of financial management and loan assistance, government contracting, energy audits, internet marketing, social media and website design;
expand outreach to rural areas and underserved markets, including attracting angel investors by establishing an angel investment outreach group; and
assist with the export of products in agriculture and medical technology sectors.
"Our meeting was productive, energetic and packed with call-to-action items that could only lead us both to better serving the small business community here in the North Texas region and across the nation," Raj Nisankarao, president of the association said.
Offering small business workshops in a traditional setting or on the Internet in the areas of access to capital, small business software tools such as the NBA First Step Review, email marketing and social media marketing as well as establishing a task force and experts panels in key small business resource areas that impact the small business owner were discussed. "I am confident that the NTSBDC Network will utilize its dynamic network in designing creative methods to deliver benefits and services that will help fill the void in these areas, he added.
About the North Texas Small Business Development Center Network (NTSBDC) - http://www.ntsbdc.org
The North Texas Small Business Development Center (NTSBDC) Network serves the needs of established and start-up small businesses in northeast and north central Texas. It is a partnership program between the U.S. Small Business Administration and the Dallas County Community College District. The NTSBDC Network promotes small business success by providing management education. We assist small businesses in creating jobs and economic growth by utilizing the elements of quality counseling and training, community involvement and the leveraging of resources.
About the National Business Association (NBA) - http://www.nationalbusiness.org
The National Business Association (http://www.nationalbusiness.org) is a not for profit association, specifically designed and actively managed to assist the self-employed and small business community in achieving their professional goals. The NBA continuously strives to provide its members with vital support programs, cost and time saving products and services in the areas of Business, Lifestyle, Education, and Health.
###