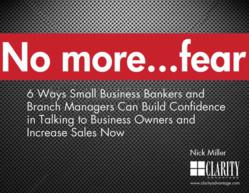 "It is imperative that bank sales training emphasize small business operations challenges, the value of bank solutions, and sales skills appropriate to the small business types on which the bank wants its sellers in the branches to focus on most."
Concord, MA (PRWEB) April 18, 2011
Selling to small businesses is very profitable for banks. Studies show that a business account is three times more profitable for a bank than a consumer account. The problem is that most branch staff are afraid to talk to small business owners, which results in missed sales opportunities. To make matters worse, their low confidence and lack of sales training about businesses, business owner concerns, and bank products and services often result in selling the wrong products—more than 40 percent of small businesses in a recent survey were in the wrong deposit accounts.
Clarity Advantage, a consulting and bank sales training firm, offers six strategies to reduce fear and increase effectiveness in building profitable business relationships:
1. Pick One – pick one type or very few types of businesses to learn well and sell to. "While you may sell to companies or buyers other than the chosen 'One,' develop your business based on that 'One,'" says Nick Miller, bank small business sales specialist and president of Clarity Advantage. "Once you have mastered the 'One' and developed a good business based on that 'One,' pick another one that is somehow related so that now you have 'One plus One' that go together rather than 'two alone.'"
2. Go Deep – become an expert on those businesses. Understand clients' and prospects' challenges and concerns first. Then offer ideas that will help them.
3. Develop the Offering – understand the bank's products and how businesses use those products best to address their challenges. "There's no substitute for this," says Miller. "Like business owners know their stuff, bankers have to know theirs. From memory, bankers have to know the products the bank offers, what they were designed to do for a company, and how companies would typically measure or notice the benefit of using the products."
4. Accentuate Personal Value – translate knowledge and personal experience into potential benefits those types of businesses will welcome. Miller recommends thinking about it as a features/advantages/benefits presentation—"I have certain features, which help you do certain things, which produce certain benefits for you."
5. Own the Conversation – guide the conversation process with engaging, challenging questions. Use the perspective of present, past, and future to learn about the business. Some examples: How is your business going at this point? (present); How has your business changed over the last couple of years? (past); How do you see it evolving into the future? What sorts of challenges do you think you'll face? (future). Avoid predictable, generic questions like "Tell me about your business."
6. Size 'Em Up – know whether or not the business owner meets the bank's credit criteria. According to Miller: "You can save yourself, your bank's underwriters, and your applicant's time if you are courageous enough to ask three tough questions upfront. Has the business been profitable during the last several years? Has the company or any of its owners filed for bankruptcy at any point? Do any of the company's owners have any issues on their personal credit reports?"
"It is imperative that bank sales training emphasize small business operations challenges, the value of bank solutions, and sales skills appropriate to the business types on which the bank wants its sellers in the branches to focus on most," notes Miller. "The end result should be a more confident, knowledgeable branch staff that is no longer afraid to call on small businesses, and is well equipped to meet both the bank's business sales goals and consumer sales goals."
For more information on increasing the effectiveness of selling to businesses via bank branches, Clarity Advantage has released an eBook entitled, "No more…fear: 6 Ways Small Business Bankers and Branch Managers Can Build Confidence in Talking to Business Owners and Increase Sales Now." Sales team leaders can use the sales training exercises in the eBook as sales team meetings. To download this free eBook, please visit: http://www.claritynomorefear.com/ebook.php.
About Clarity Advantage
Consulting and bank training firm Clarity Advantage helps banks generate more profitable relationships faster with small businesses and medium-sized companies, their owners, and employees. Clarity consulting, communications and sales training help banks recruit and deploy sales team members, choose their best business and consumer prospects and clients, then approach, engage, sell, expand, and retain relationships. Clarity also assists banks with consumer sales and cash management sales. Clarity clients have posted increases in household penetration, cross-sells, deposit volume, and loan volume. Visitors to Clarity's website, http://www.clarityadvantage.com, can subscribe to "The Weekly Sales Thought," a free eNewsletter and podcast focused on business-to-business selling and sales management.
Contact:
Karen Tunks
Clarity Advantage
980-939-2112
Karen(dot)tunks(at)clarityadvantage(dot)com
###