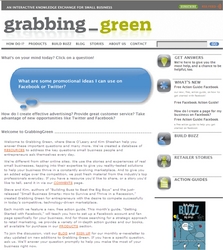 We are using information and insights that represent the most current thinking on today's marketing challenges for small business entrepreneurs as well as experience that we have gleaned over 25 years developing marketing plans and advertising campaigns
Newport Beach, CA (PRWEB) October 2, 2009
As the social media movement continues to experience unprecedented growth, many small business owners are asking how they can carve out their niche in what many experts consider the new frontier of advertising and marketing.
GrabbingGreen.com, an interactive knowledge exchange specifically for small businesses interested in engaging their customers through social media, seeks to answer this question and more with the latest information and analysis from industry professionals.
"We are using information and insights that represent the most current thinking on today's marketing challenges for small business entrepreneurs as well as experience that we have gleaned over 25 years developing marketing plans and advertising campaigns" says Steve O'Leary one of the managing partners of GrabbingGreen.com, and founding partner of LA ad agency, O'Leary and Partners.
The relaunched sited began as a way for small business owners to access and use the same knowledge and expertise that, until recently, only big companies with large advertising and marketing budgets could afford. GrabbingGreen.com's design is built around frequently-asked questions regarding social media posed by small businesses from across the country. Visitors are encouraged to post their own questions, which are then answered by the site's team of experts.
GrabbingGreen.com also offers free "action guides" to help any business owner get started with social media like Twitter and Facebook, even if they have no prior experience using these services.
Real-life stories from successful retailers continue to be a cornerstone of the site. "The stories from small business owners may be our most interesting continuing contribution" says Kim Sheehan, managing partner. "We have provided stories from our recent book, 'How To Survive (and even Thrive) in a Recession' as well as new stories from our interviews with small businesses. Owners really like to hear what other owners are doing in the marketing and advertising of their business" says Sheehan.
For additional information on the news that is the subject of this release (or for a sample, copy or demo), contact Steve O'Leary or visit GrabbingGreen.com.
GrabbingGreen.com partners Steve O'Leary and University of Oregon advertising professor Kim Sheehan have published two books designed to help small business owners: "Building Buzz to Beat the Big Boys: A guide to word-of-mouth for small business" and "Small Business Smarts- How to Survive (and even thrive) in a Recession." O'Leary and Sheehan can be found on Facebook and on Twitter: @smlbizsmarts.
Steve O'Leary
949-833-8006
steve (at) grabbinggreen.com.
###