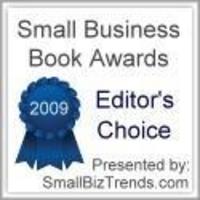 Our awards highlight the often-overlooked small business book category. We want small business owners to be aware of these exceptional books, written by their peers, which offer them inspiration for 2010." Anita Campbell, CEO of Small Business Trends.
Cleveland, OH (PRWEB) December 9, 2009
On December 8, Small Business Trends awarded its Reader's Choice and Editor's Choice Awards for the 2009 top small business books, just in time for holiday shopping (and reading).
They have presented these awards for the second year to ensure that these books, often written by entrepreneurs, get recognition among other small business owners. This year, Small Business Trends expanded the process by soliciting nominees for the initial Reader's Choice list, and instituting a formal voting process. To qualify, books had to appeal to small business personnel, entrepreneurs, freelancers or the self-employed and had to be newly published (or revised) during 2009. More than 4,000 votes were cast, along with 200 write-ins. The voting was close; there were roughly a dozen books that missed the top 10 by a small margin.
The 2009 Best Small Business Book Editor's Choice awards this year also had an added dimension, including voting by an Advisory Panel of 27 small business experts, as well as the Small Business Trends editors. They added two additional winners and awarded the top twelve books for 2009. Winning books were chosen based on originality; quality of writing; and usefulness for small business people. These business book awards began in 2008. They are a natural outgrowth of Small Business Trends' popular small business book reviews. Details, book links and reviews are available at the links below.
2009 Small Business Book Awards - Reader's Choice Edition Winners Include:
· Awesomely Simple: Essential Business Strategies for Turning Ideas Into Action -
· by John Spence
· BAM: Delivering Customer Service in a Self-Service World - by Barry Moltz and
· Mary Jane Grinstead
· Career Renegade - Written by Jonathan Fields
· The Constant Contact Guide to Email Marketing - by Eric Groves
· Crush It!: Why NOW Is the Time to Cash In on Your Passion- by Gary Vaynerchuk
· Escape from Cubicle Nation - by Pamela Slim
· Immigrant, Inc.: Why Immigrant Entrepreneurs Are Driving the New Economy - by
Richard Herman and Robert Smith
· The New Community Rules: Marketing on the Social Web - by Tamar Weinberg
· The Sassy Ladies Toolkit for Startup Businesses - by Michelle Girasole, Wendy
· Hanson and Miriam Perry
2009 Small Business Book Awards - Editor's Choice Edition Winners Include:
· Anatomy of Buzz Revisited – Emmanuel Rosen
· Escape from Cubicle Nation - by Pamela Slim
· Greening Your Small Business - by Jennifer Kaplan
· Me 2.0 - by Dan Schawbel
· The New Community Rules - by Tamar Weinberg
· Outrageous Advertising – Bill Glazer
· Talk Less, Say More - by Connie Dieken
· Super Freakonomics - by Steven D. Levitt and Stephen J. Dubner
· Trust Agents: Using the Web to Build Influence, Improve Reputation, and Earn
· Trust - by Chris Brogan and Julien Smith
· Upstarts - by Donna Fenn
· Viral Loop – Adam Penenberg
· You are What You Choose – by Scott de Marchi and James T. Hamilton
The 2009 Small Business Book Awards are sponsored in part by QuestionPro - online research made easy™. QuestionPro is provider of the survey tool for voting on the awards.
About Small Business Trends:
Small Business Trends is an award-winning online publication for small business owners, entrepreneurs and the people who interact with them reaching more than 250,000 readers monthly. The site updates entrepreneurs on trends affecting the small business market: "Small business success ... delivered daily." Small Business Trends has been highlighted in the Wall Street Journal, The New York Times, and numerous other media. The site also has won a number of awards including Forbes Best of the Web (twice – in 2005 and 2008).
Find us on Twitter too: @SmallBizTrends and @SmallBizTrends2
###