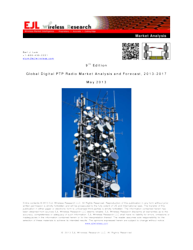 60GHz PTP radios remain the best positioned wireless backhaul technology for outdoor small cells
Salem, NH and Las Vegas, NV (PRWEB) May 21, 2013
The global point to point (PTP) radio market declined by 6.9% in 2012, according to the latest report from EJL Wireless Research titled "Global Digital PTP Radio Market Analysis and Forecast, 2012-2017 9th Edition." "It would be easy to just blame the Greek government for the 2012 results and leave it at that but we believe that that market remains very unpredictable," says founder and President, Earl Lum. EJL Wireless Research is forecasting that the PTP radio market will see a choppy outlook between now and 2015 as the traditional macrocell BTS backhaul market remains flat to potentially down.
Some key and notable facts from the analysis include:
EJL Wireless Research LLC was correct in predicting demand for all indoor trunk radios for 2012 with a forecast variance of 4.2%
EJL Wireless Research LLC was correct in predicting demand for hybrid 50-900Mb radios for 2012 with a forecast variance of 7.5%
EJL Wireless Research LLC was correct in predicting demand for 1Gb radios for 2012 with a forecast variance of 3.6%
These data points continue to support our proprietary modeling philosophy and leadership position in forecasting capability within the wireless infrastructure market and the granularity in quantitative details we can provide to our global client base.
"Huawei Technologies continued increase its market presence with a 33% growth in shipments. It is possible with continued strong growth and market share gains that Huawei Technologies could become the largest PTP radio supplier in units by the end of 2013 ," says Lum.
"Europe remained the top region as upgrades to support both 3G and 4G networks continued to demand" says Lum. Asia Pacific rebounded but India remained weak. The hybrid (TDM/IP) radios lost market share to Ethernet radios which increased to 45% of total shipments. The 60/70/80GHz radio shipments increased by 114% in 2012 due to increasing demand in Europe.
Some key predictions from EJL Wireless Research LLC for 2013:
Global PTP radio shipments will be up 6%
High capacity 50-900Mb Ethernet PTP radios will grow 40%
1Gb PTP radios will grow 67%
60GHz PTP radios remain the best positioned wireless backhaul technology for outdoor small cells
The report provides a unique perspective on the global shipments and demand for PTP radio equipment covering all vendors including Alcatel-Lucent, Aviat Networks, BridgeWave Communications, Ceragon Networks, DragonWave, E-band Communications, Ericsson, Huawei Technologies, NEC, Nokia Siemens Networks, SIAE Microelettronica, Siklu Communication and ZTE.
The top suppliers by overall PTP shipments as well as by digital standards and radio capacity for 2012 were:
Overall #1 PTP Radio Supplier: Ericsson AB
Overall #1 2-50Mb Radio Supplier: SIAE Microelettronica SpA
Overall #1 Trunk/Indoor Radio Supplier: Ceragon Networks
Overall #1 50-900Mb Radio Supplier: Ericsson AB
Overall #1 Gb Radio Supplier: SIAE Microelettronica SpA
Overall #1 UHFUHC Radio Supplier: Siklu Communication Ltd.
About EJL Wireless Research
EJL Wireless Research provides proprietary, accurate and cutting-edge market analysis and consulting services on the wireless technology ecosystem. The firm focuses its research on all vertical elements of the wireless ecosystem including mobile subscribers, mobile operators, mobile handsets, mobile infrastructure and mobile content. In addition, the firm provides analysis across horizontal technology suppliers including RF semiconductor materials, RF semiconductor/components, subsystems and OEMs. Our goal is to provide our clients with mission critical market analysis and information.
EJL Wireless Research believes it has a corporate responsibility, both local and international, in giving back to the community. Please visit our website for more information about the charitable organizations it supports at: http://www.ejlwireless.com/corporate_responsibility.html.
EJL Wireless Research is managed by Earl Lum. Mr. Lum has 18 years of experience within the wireless industry including 8 years as an Equity Research Analyst on Wall Street cover the global wireless industry. The company is headquartered in Salem, NH. For more information about EJL Wireless Research, please visit the company's website at http://www.ejlwireless.com.