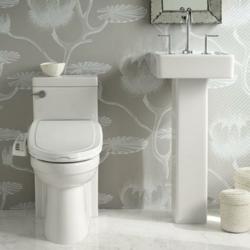 There are a few types of bathroom vanities (and vanity alternatives) that can make a small bathroom look good and work well.
(PRWEB) May 25, 2013
HomeThangs.com – the Online Home Improvement Super Store has made it their goal to deliver the right product to the consumer. With that in mind, shopping and home design tips, as well as special product selections are being introduced.
For most bathroom vanities "small" means either 36″ or 30″ wide, but anyone with a genuinely small bathroom knows that isn't really all that small. But there are a few types of bathroom vanities (and vanity alternatives) that can make a small bathroom look good and work well. Homethangs.com has introduced a guide to finding one.
1. Simple Set Pieces
24″ wide bathroom vanities are the next most common thing to 36″ and 30″ ones, but are mainly available as part of larger bathroom vanity collections. Essentially, that means that most bathroom vanities in this size range are scaled down models of more standard-sized designs. Even so, these are at the upper end of the "very small" category, and typically offer relatively roomy interior cabinets and sometimes hidden shelves and drawers.
2. Functional Features
When it comes to bathroom vanities in the 18″-24″ range, considering features is as important as size and style. Decorative vanities are nice, but the more utility packed in that small space, the better. Bathroom vanities with towel bars are an excellent example, along with other features like hidden pull-out shelves, interior drawers, or even adjustable (or removable) feet.
3. Storage, Storage, Storage
The most utilitarian bathroom vanities put smart storage at the top of the priority list. With shallow sinks that allows for drawers almost up to the level of the vanity top and nice neat organizing shelves inside the cabinet, ultra-efficient vanities have just about as much storage in a lean 24″ cabinet as possible. Paired with a storage mirror, these offer a balanced combination of easily accessible shelves and private storage.
4. Wall Mounted Vanities
Wall mounted bathroom vanities are small, often dramatically smaller than almost any other type of vanity. But they do it while still offering a little storage, either in the form of a shelf, a cabinet, or a small U-shaped drawer. They might not offer the same quantity of storage as a larger cabinet, but it's frequently a better quality storage, with the most-used items stored at waist height and easily visible.
5. Efficiency Vanities
For very, very small spaces, bathroom vanities should be shallow as well as narrow. Ultra-compact bathroom vanities inspired by ones on boats or in RVs, for example, are designed for maximum utility in the minimum amount of space. A small cabinet means the most oft-used items close at hand, and offsetting the faucet means that this type of vanity typically protrudes less than 11 inches from the wall, freeing up an impressive amount of floor space.
6. Pedestal Sinks
Pedestal sinks are especially popular in a small bathroom, as they take up very little space but also create an open, airy feel. Since they aren't technically bathroom vanities and as such don't have any built in storage of their own, pedestal sinks are best paired with supplemental storage cabinets. Even on their own, though, they offer compact utility packaged with a traditional style.
7. Wall Mounted Sinks
Wall mounted sinks are really what they sound like: sinks that are mounted to the wall. These are pure utility, offering a sink, faucet, and drain in as little space as possible, while leaving the rest of the bathroom open for alternative, more efficient storage. Some models incorporate an extra storage shelf or towel bar, which can minimize the need for more furniture elsewhere and further open up a very small bathroom space.
To find out more about how to make the best of a small bathroom, read the full article here.
HomeThangs.com is not only a home improvement superstore, it also provides expert design tips and a comprehensive shopping guide, taking the ideas from professional interior designers, and offering tips to the consumers on how to pick the products to best suit their needs.