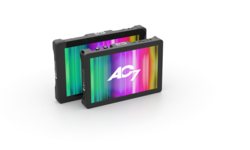 We're going beyond advancements in resolution—the AC7-OLED truly shows you what colors your HD camera is actually capturing.
Cary, NC (PRWEB) December 04, 2012
OLED (Organic LED), proven to be the most high-end on-camera display technology to date, is now available to filmmakers in 720p high definition resolution on SmallHD's new 7.7-inch AC7-OLED monitor for a mere $1099—less than half the going rate of alternative OLED on-camera monitors. Using the latest advancements provided by Super AMOLED Plus technology, the AC7-OLED represents the best OLED display in the world, providing a near-perfect black point, extremely high contrast, precise shadow detail, a superior color gamut, high bit depth, and a native resolution greater than 720p.
"The picture quality is absolutely stunning," says Dale Backus, SmallHD's CTO and designer of the AC7-OLED. "Put it next to any popular LCD display and this OLED will make it look nearly 'black and white' in comparison—it almost feels like an optical illusion, but that's just what happens when your eye sees such a vivid image next to something not-so-vivid. One glance and you're spoiled. I can't stop looking at it."
"Over 2 years ago, we introduced the world's first true high definition on-camera monitor, and the competition has finally caught up. Today, we're raising the bar yet again with a display that is superior in many more ways than just resolution," Says Wes Phillips, CEO. "Not only does the AC7-OLED provide a true 720p resolution that's important for dialing in critical focus, it tops the industry in contrast, black point, color gamut and bit depth, areas where the older 5.6" 1280x800 panel found on many current on-camera monitors is severely lacking. We're going beyond advancements in resolution—the AC7-OLED allows you to finally see the colors your HD camera is actually capturing."
For the science behind why the AC7-OLED is superior to today's popular LCD displays, visit the "Why OLED?" page on SmallHD's website.
Pricing and Availability:
SmallHD's AC7-OLED and AC7-OLED-SDI models are being offered for a short time at the special introductory price of $1099 and $1399 respectively. This new breed of on-camera monitor will start shipping in mid December 2012 and is only available for purchase through http://www.smallhd.com. High demand will influence lead times.
About SmallHD:
Creators of the world's first high definition on-camera monitor, SmallHD continues to push the envelope of what's possible in an on-camera display by providing the world's latest technology at the best price in the industry. Founded in 2009, the company has made its name as the leading innovator of on-camera monitoring solutions for the professional cinematographer, videographer and photographer.
SmallHD's on-camera monitor innovations include:

2009 Introduced the world's smallest true HD monitor (8.9" 720p) - DP1
2009 Only vendor to provide a rugged solid aluminum uni-body design
2009 Introduced the world's first seamlessly integrated 4-sided sun hood
2010 Introduced the world's smallest true HD monitor (5.6" 720p) - DP6-SLR, DP6-SDI
2010 First to provide DSLR auto-scaling, now an industry standard
2010 First to provide DSLR battery power options to improve work flow
2010 First to provide downloadable firmware upgrades via built-in USB port.
2010 First to provide a true standalone monitor that can also serve as an Electronic Viewfinder (EVF) DP4-EVF
2010 First to provide upgrade from HDMI to HD-SDI within the same monitor (DP6).
2010 First to provide multiple false color implementations for proper exposure management. (Free download)
2011 Focus assist tools that out performs any monitor in its class. (Free Download)
2012 Industry's first "High-Bright" and "OLED" 720p displays
2012 First to deliver HD OLED under $1100