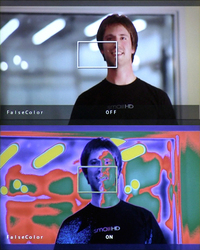 "Our intention is to 'future-proof' the DP6 by continuing to add user-requested features and enhancements. This is only the beginning," says Dale Backus, co-owner and Lead Product Developer.
Apex, NC (PRWEB) November 3, 2010
SmallHD pushes the envelope of external on-camera displays by providing its second major software upgrade for the DP6 HD field monitor since released in August. DP6 software version 1.2 adds two major features, plus many improvements. The headlining additions include an intuitive "False Color" exposure scale and a second quick-access function button.
Once installed, users may verify shot exposure based on an intuitive IRE/brightness scale.
False Color IRE Scale:
http://www.smallhd.com/images/SmallHD-False-Color-IRE-Scale.jpg
Sample Image With and Without False Color:
http://www.smallhd.com/images/SmallHD-DP6-FalseColor-On-Off-600.jpg
False Color Implementation and Demonstration Video: http://videos.smallhd.com/firmware-version-1-2/
"Focus and exposure accuracy are the two most crucial things a field monitor can provide during a shoot—if they're off, neither one can really be fixed in post," according to Backus. "The DP6's superior resolution plus its highly accurate 'Focus Assist' function make focusing a breeze, and our new 'False Color' filter gives an intuitive picture of your scene's exposure levels."
Version 1.2 enables the second button for quick function access and allows the user to instantly swap between any two functions. "By default," Backus continues, "the 'False Color' and 'Focus Assist' functions are now only a single button press away, enabling faster, more accurate shot setups."
"The unique ability for users to upgrade their DP6's software features in the field yet again proves incredibly valuable," says Wes Phillips, co-owner and CEO. "From a software standpoint, the DP6 is a completely different monitor compared to its first release."
"We're going to keep pushing the limits of this product until we've squeezed out every possible feature," Phillips adds, "as well as accommodate emerging cameras with unique signal types as we've done with HDSLRs. This constant software evolution plus superior hardware means the DP6 will improve and become more valuable over time."
"Technology progresses so quickly that long-term value isn't something you typically get from a device that is non-updatable, so we're incredibly pleased to be the first company to provide simple user-based upgradability to a high-end field monitor."
Other Videos By SmallHD
http://videos.smallhd.com/
# # #