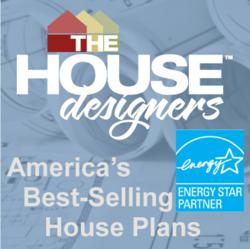 "It's all about how the space is configured," said Crosby. "We have nearly 2,000 plans that come in under 2,000 square feet yet deliver the charm and usability of much larger homes."
Portland, Oregon (PRWEB) August 22, 2012
Four years into the housing downturn, new-home construction continues to focus on downsized living. This is a reversal of a 30-year trend toward larger homes, which came to an abrupt halt in 2007.
The Census Bureau reports that in 2007, the average size of a newly constructed single-family home came in at a high of 2,521 square feet. This fell to 2,392 square feet in 2010.
According to a study by the Demand Institute division of the U.S. Conference Board, the American dream of home ownership is still alive and well — but will contract to 2,150 square feet by 2015. All because consumers are still shoring up their finances.
Big home living in a smaller footprint
Today, homeowners in search of more for less can find numerous house plans that come in at under 2,000 square feet at TheHouseDesigners.com. These home buyers are finding they do not need to compromise when building a smaller home.
In fact, they can often get everything they want – and more. "It's all about how the space is configured," said Tammy Crosby, Chief Operating Officer of The House Designers, the internet's leading provider of residential house plans. "We have nearly 2,000 plans that come in under 2,000 square feet yet deliver the charm and usability of much larger homes."
Rejigger the space
Crosby reports that downsized homes score points with new home buyers by nixing space that was rarely used such as formal living rooms and feature sought-after open floor plans. "Even the family room may give way to a great room with flexible space that can include an entertainment center, home office, reading nook and may even work overtime as a guest room."
"Our designers are finding ways to create a feeling of space by varying ceiling heights to make rooms feel bigger and other design tricks. Big front porches are in, which, viewed from inside the home also make a small home seem larger," Crosby added.
Small house plans that are ahead of the curve
Homeowners seeking an all-new, ultra-efficient, ENERGY STAR®-rated green house plan, four bedrooms and an adorable front porch might consider "The Jefferson" which comes in at 1,628 feet of usable living area, 1.5 stories and features an 11' x 13' "swing room."
One of the most popular plans is "The Godfrey", with three bedrooms, two full baths, one half bath and a vaulted great room, all on one level, with a total living area of 1,580 square feet.
A notable bestseller is "The Merveille Vivante House Plan", with three bedrooms, two baths, all in 1,421 of total living area, plus a lanai, bonus room on the second floor and a two-car garage.
A creatively, well-thought out floor plan with innovative products by residential product manufacturers like Therma-Tru®, Fypon® and Lumber Liquidators® can make any small house seem much larger than it actually is offering homeowners significant savings on maintenance and heating and cooling costs.
Visit The House Designers Product Ideas section for in-depth articles on how to design for small spaces, latest in energy-efficient building products and home décor. You can also stay in touch each week by signing up for Home Ideas, a free newsletter about the latest design trends and home products.
ABOUT THE HOUSE DESIGNERS HOUSE PLANS: The House Designers are the leading residential architects and designers in the U.S. comprising the majority of pre-drawn plans in America. The House Designers has the best-selling, most popular house plans in America all under one roof owned and operated directly by the designers. They have clients who have built their homes in every state in the U.S. and in 56 countries around the globe.
###