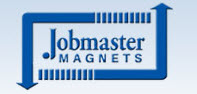 Take extra caution when children are around toys or objects that contain small magnets
Oakville, Ontario (PRWEB) July 08, 2012
Jobmaster Magnets would like to remind parents to demonstrate extreme caution when using products that contain small magnets around children. A recent report published June 22, 2012 by "My Health News Daily" as well as "Fox News" (June 22, 2012) warns that swallowed magnets are a growing problem for children.
Today magnets are used increasingly in a variety of products around the home as well as in commercial and industrial settings. When most people think of magnets they might think of a fridge magnet, a horse shoe shaped magnet or even an industrial magnet. However, magnet technology has increased greatly over the years and magnets are now used in many daily products in a variety of forms.
Perhaps the increasing use of toys, electronics and other devices that require or contain small magnets is the main reason for the growing problem of accidental ingestion of magnets among children in the United Kingdom, Canada and the United States. It is important that parents are aware of the risk and the severe health damage that can occur as a result of ingesting magnets.
As reported by "My Health News Daily", a new study conducted by researchers at a U.K. hospital examined two cases of children who needed to have surgery after they ingested a number of magnets. In the first incident, an 8 year old child was thought at first to have appendicitis but was later found to have swallowed two magnetic strips, each an inch long. In the second case, an 18-month old had abdominal pain for five days before health care workers realized she had swallowed ten small magnets that were shaped like spheres ("Swallowed Magnets Growing Problem For Kids, Docs Warn", Fox News, June 22, 2012).
Of course harm can come to children from ingesting any type of foreign object, and care should always be taken when children are around objects that are small enough to swallow. However magnets can cause even greater damage than other commonly ingested items like small toys or coins because of the increased likelihood for internal damage that can be caused by small magnets. Although other small objects that kids swallow usually pass through the digestive system without causing serious illness or harm, magnets can become attracted to one another. This magnetic attraction is powerful and can damage tissue as the magnets attract or repeal each other, even tearing the child's internal organs in the process.
Another problem with very young children who swallow magnets is that they may not be able to tell an adult what has happened and also may not initially experience pain or discomfort, delaying treatment and also an accurate diagnosis. With the widespread use of magnets, the potential for harm from accidental magnet ingestion will continue to increase, especially with small magnets.
The team at Jobmaster Magnets would like to remind parents and caregivers to take extra caution and pay particular attention when children are around toys or other objects that contain magnets. For more information about the many different types of magnets available and their unique uses visit http://www.JobmasterMagnets.com.