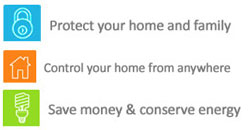 We will continue to bring to market the national brands that provide solutions that enhance the quality of life.
Orange County, CA (PRWEB) December 28, 2012
The best and most reliable way to take care of any home today is by enlisting for the services of one single company; SolveForce. SolveForce is a company that will not only keep members of a family safe in the home but it will also offer great packages on smart home energy options specially designed for home use.
SolveForce markets its clients home security solutions through the provision of home alarms, security doors, security windows and even security cameras. The entire home package marketed by SolveForce offers modern solutions for home security around the house at a very reasonable price. The ability to control most of these systems even while away from the actual house is an advantage because the products are tailored to protect the home even when the occupants are absent.
Home security automation is a product marketed by SolveForce that helps customers stay in control of their homes safety even when they are not indoors. With this type of installation, travel and leisure trips are not a time to worry but a time to fully enjoy oneself in the comfort of the fact that one's home is safe and sound. The devices can be controlled using computers or phones.
Saving energy has become a priority in the lives of many people and SolveForce recognizes this. This is why the company has partnered with Smart Home Automation providers who offer home energy automation and smart home lighting products and services. With such products, you can program your lights to go and off at particular times, control the lighting hands free and even choose a preferred ambience at different times. The products marketed at SolveForce are provided by industry leaders and are fairly priced for the consumers benefit.
Wireless home security is one of the latest forms of house protection products. Using this technology, SolveForce helps users all over the world to secure their homes using wireless technology that can be controlled remotely. Smart thermostats introduced by SolveForce also helps customers to control energy consumption in their homes and subsequently the amount of money spent on energy bills.
SolveForce markets smart home and security solutions to the following geographical areas:
Alabama, Alaska, Arizona, Arkansas, California, Colorado, Connecticut, Delaware, District of Columbia, Florida, Georgia, Idaho, Illinois, Indiana, Iowa, Kansas, Kentucky, Louisiana, Maine, Maryland, Massachusetts, Michigan, Minnesota, Mississippi, Missouri, Montana, Nebraska, Nevada, New Hampshire, New Jersey, New Mexico, New York, North Carolina, North Dakota, Ohio, Oklahoma, Oregon, Pennsylvania, Rhode Island, South Carolina, South Dakota, Tennessee,Texas, Utah, Vermont, Virginia, Washington, Washington DC, West Virginia, Wisconsin, Wyoming and certain parts of Canada.
About SolveForce
The doors of the SolveForce Company were opened up in the year 2004 by Ron Legarski. The company is well known for the variety of services it offers. Apart from amazing telecom solutions, it also markets and provides home owners and business owners with affordable yet reliable security products. A nominee of the customers' choice awards 2011, SolveForce is a leading company in the industry. In order to serve customers efficiently, SolveForce has formed alliances with over fifty major service providers and this enables it to provide comprehensive telecom services and security to customers.
For more information on smart home energy and security solutions visit: http://www.wirelesssmarthomeautomation.com