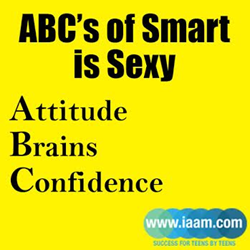 "The Smart is Sexy campaign is incredibly powerful because it shows that being sexy goes beyond looks alone." Cheyenne Krieger from the University of Cincinnati
New York, NY (PRWEB) September 11, 2015
Today, everything is sensationalized and men and women are held to an unattainable standard of beauty. Smart is Sexy campaign contributor Cheyenne Krieger from the University of Cincinnati said, "The Smart is Sexy campaign is incredibly powerful because it shows that being sexy goes beyond looks alone."
Today's celebrities have an immense influence on the young generation. Over the last year, the iaam campaign team asked young celebrities what Smart is Sexy means to them. It is exciting to see inspiring Smart is Sexy quotes from young celebrities like Greer Grammer, who said "I'd have to say sense of humor is sexy for me. I love laughing. I love people that can make me laugh. There's nothing sexier to me than being able to have fun and laugh."
The iaam team spent 18 months working on the Smart is Sexy campaign under the direction of iaam.com founder and CEO Malini Hoover. Melissa Cubit from Syracuse University recalls, "When I started working on iaam's Smart is Sexy campaign, I was amazed that the whole campaign was created and executed online. Google Hangout was the key for dedicated college students from across the U.S. to virtually meet, execute and launch the Smart is Sexy campaign".
iaam has created an original Smart is Sexy celebrity video, tons of celebrity interviews, asking them about their take on Smart is Sexy, and graphics with celebrity quotes young people can use for inspiration. Readers can participate and share the Smart is Sexy campaign with friends and family, and download a flyer to post their personal favorite sexy quality on Twitter with the hashtag #SmartisSexy @iaam!
Malini Hoover, founder and CEO of iaam who invented September as Smart is Sexy month and mentored the college students on the Smart is Sexy campaign said "Smart is Sexy is an important and innovative campaign created by college students to encourage young people to embrace an empowering mindset. It is truly a for teens by teens campaign. Help us spread the word and participate by sharing the flyer and what qualities you find sexy in a person."
| ABOUT iaam.com |
The Teen Entertainment & Life Skills Multimedia Network is the first national positive media company emphasizing life skills and entertainment for young adults, providing information on entertainment such as music and fashion, college, lifestyle and success written by teenagers across U.S. The company truly embodies 'The Entertainment with Purpose message! It successfully provides a platform for students to develop leadership, career and communication skills. Our national student internship and ambassador programs have helped numerous students to land scholarships, admission to top colleges, internships and jobs in media, marketing and communication.
For additional media inquiries or to talk with the students, please contact Malini Hoover.