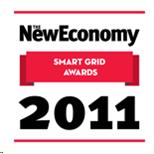 We are also pleased to have been nominated with such distinguished companies as Honeywell, Siemens and IBM", stated Jim Sinopoli, President and CEO of Smart Buildings, LLC.
Austin, Texas (PRWEB) January 05, 2012
It's a great start to the New Year for Smart Buildings, LLC. The New Economy has named the company Smart Building Company of the Year. The Smart Grid Awards recognizes companies that have reached the highest levels of achievement in their field of expertise and are leading the way in driving their respective industries forward.
The criteria for the award included innovation, originality and quality of product or service, as well as proof of market development and excellence in client representation.
The winners are announced during the January 2012 World Economic Forum (WEF) in Davos, Switzerland. The WEF brings together top business leaders, international political leaders, selected intellectuals and journalists to discuss the most pressing issues facing the world, including health and the environment.
Smart Buildings, LLC provides engineering and design services for building systems and systems integration focusing on operations, performance and energy management. They are one of the few specialized design firms that are independent from manufacturers and provide designs and specifications based solely on the clients' requirements and project needs. Smart Buildings' clients span a variety of industries including Fortune 100 corporations, education, healthcare, government, technology companies and major developers. Their international experience includes projects in Asia, Europe, the Middle East, South America and Africa. In addition, this year, the company has founded the Smart Buildings Institute, a non-profit organization that's sole purpose is to certify that buildings are designed and constructed to take advantage of innovations in technology, that result in efficient operation and cutting-edge management of energy, sustainability and facility performance.
The New Economy Smart Grid Awards recognizes companies that have 1) utilized the power of the Smart grid, 2) demonstrated significant achievement or leadership in the energy, sustainable development, environmental or resources stewardship, and 3) long-term service and commitment in the development of public awareness on the Smart Grid and energy efficiency.
"We are grateful that The New Economy is recognizing the value of smart grid and smart building solutions as well as the companies that are leaders in innovation. We are pleased to be recognized for our efforts after many years in the industry. We are also pleased to have been nominated with such distinguished companies as Honeywell, Siemens and IBM", stated Jim Sinopoli, President and CEO of Smart Buildings, LLC.
The award recognizes that the potential of the Smart Grid will be significantly diminished without smart buildings. Smart Buildings LLC's leadership in operational and energy efficient buildings, together with service and commitment to industry and innovation played a significant role in the award.
Smart Buildings LLC Managing Partner, Jim Sinopoli, speaks at the London Stock Exchange and answers the questions: What is a smart building? Are they more costly to build? And what is the difference between a green building and a smart building? Click here to see this video.
About Smart Buildings, LLC
Smart Buildings LLC is a professional design and engineering firm focused on integrated building systems, networks, technology and energy management systems. The company is recognized as an industry leader with expertise across multiple systems and extensive experience with the design, construction and operation of buildings. Smart Buildings operates globally and has extensive experience and expertise in a broad range of developments and building uses, from education and healthcare to mixed use and manufacturing. Projects have won global awards for Best Use of Automation, Building Connectivity Implementation and the BICSI "Harry J. Pfister" award. The Smart Buildings team is recognized as industry experts with two published books, Smart Buildings, A Handbook for the Designing and Operation of Building Technology Systems and the sequel Smart Buildings for Architects, Owners, and Builders. Smart Buildings' team members are regular speakers at many industry conferences as well as contributors of industry publications.
About The New Economy
The New Economy is a media company enjoying a distribution network that includes some of the most prominent decision makers worldwide, committed to the very highest standards of journalism and having built up a coveted reputation for excellence. Readership includes a high level of C-level executives, heads of utilities, heads of finance, heads of banks and government treasury departments.
About Smart Buildings Institute
The Smart Building Institute (SBI) is a non-profit corporation that facilitates the growth and education of smarter building and building operations through evaluation and certification of individual buildings. SBI establishes a series of technical building and operational attributes that reflect the use of integration of advanced technology that support energy efficiency, sustainability and superior performing buildings. SBI is committed to change and innovation in the way buildings are designed and operated.
###