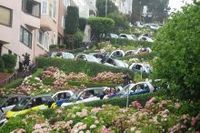 Belleair, Fl, (PRWEB) August 21, 2008
Smart Car of America and the Northern California Smart Car Chapter hosts major Smart Car Rally.
The Northern California Chapter along with Smart Car of America spent last weekend hosting their first annual Smart Fortwo event.
Mr. Porter, one of the first pioneers of the Smart Car of America Community, as well as an avid smart car enthusiast and owner of a 2008 smart fortwo passion coupe, said "the smart car has been an icon since it rolled off the assembly line in 1998. They appeal to all segments of the population and when the Rally and Photo Shoot idea came up from our Northern California Chapter, it truly felt like the perfect event for all smart owners to participate in and to really mark the first success point for the smart car here in the United States during this introductory year of the smart car to the US marketplace."
Beautiful San Francisco, California was the backdrop for the initial "Smart Car Rally and Lombard Street Photo Shoot" later christened, "Smarts on Lombard." Smart car fans from across the western region of the US and beyond, rolled into San Francisco to have an opportunity to be a part of this historical automotive event.
It was a fun-filled day for participants as well as spectators as the smart car procession traveled from Fort Mason to Lombard Street in a police escorted parade, then passed through Golden Gate State Park and finally to Sausalito to wrap up the great event.
Mr. Porter continues "With tremendous feedback and excitement around the Smarts on Lombard event, Smart Car of America plans to continue the rally on an annual basis selecting different locations each year. With the unbelievable turnout tripling early estimates it's evident that the American public and auto enthusiast are opening their arms to the smart car in America and we plan to continue spreading the new found enjoyment around this great car."
This years event was founded by participants, Smart Car of America looks to advance the rally in future years with outside sponsorship hopefully opening up the availability for additional smart owners to participate in this annual event.
"The whole purpose of the rally was to get smart enthusiasts together and enjoy the company of like-minded smart thinkers and I would say we set one for the record books," said Mr. Porter.
ABOUT SMART CARS OF AMERICA
Established in 2001 SmartCarofAmerica.com is North America's longest running independent Smart Car Internet Company and America's leading Smart vehicle portal and operates the largest North American Smart Car Forum and is a leader in forward-thinking automotive information. Smart Cars of America, LLC is an independent, privately-held company located in Belleair, Florida.
###