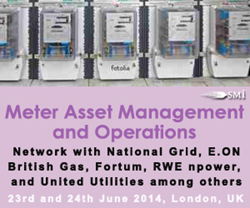 Mandated smart meters in EU by 2020
London (PRWEB UK) 13 April 2014
SMi's Meter Asset Management and Operations conference, taking place on 23-24 June 2014 in London, will provide practical insight on managing the meter assets already held by utilities and planning for the burst of activity and sizable workforce increase required to deliver smart meters into consumers' homes in a relatively short time frame. The two-day conference programme will contain case studies on how leading Utilities across Europe are managing smart meter rollouts including National Grid, British Gas, E.ON, Fortum and RWE npower.
Key presentations at SMi's Meter Asset Management and Operations conference include:

The impact of smart metering on triage and reverse logistics
Alan Doody, Head of Asset Management, British Gas
Managing hard to reach environments and the associated M2M communication challenges
Simon Harrison, Smart Metering Technical Lead, RWE npower
Case Study: Fortum smart meter installation roll out project in Finland
Harri Hauta-aho, Project Manager, Smart Meters, Fortum
Managing workforce training and retention to deliver a smart meter installation programme
Thomas Perry, Meter Operations Manager, E.ON
Keeping track and repatriation – installing replacement meters and managing asset flows
James Charlton, Solution Architect, Core Systems, British Gas
To view the full speaker line-up and conference programme, visit http://www.smi-online.co.uk/meter23.asp.
Plus, don't miss the post-conference workshop on taking place on 25th June 2014:
UK Smart Meter Roll Out | Led by Vic Tuffen, Technical Director, Tuffentech Services Ltd
With less than 2 years now to the Enduring Phase of the UK Smart Meter Programme, preparations are now moving into a critical phase. The challenges facing any organisation planning to participate at any level in the programme are many and complex. Whether you are seeking to employ and train more meter installers or specify and purchase smart meters, gaining a detailed understanding of the processes involved and the scope of the work is vital. This workshop will equip you with the knowledge and understanding required so that your planning can be underpinned by informed decision making.