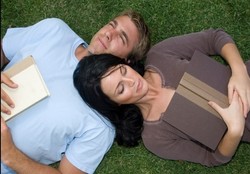 "It's terrific to have an online dating site where you can let your intellect shine based upon your favorite books and interests rather than solely on physical attributes." -Julie Spira, Cyber-Dating Expert and bestselling author.
New York, NY (PRWEB) October 5, 2010
BrainiacDating.com - has launched a book matching feature which selects information from members' profiles and then recommends compatible matches. Singles that enjoy similar authors and reading styles will be matched. For example, a fan of Vonnegut and Asimov will be also be matched with fans of other science fiction and fantasy writers like Atwood and Herbert.
"Not only can you find common interests, but also common values which is so important for dating." said Amy Schoen, MBA, CPCC, CEO of Heart Mind Connection and author of "Get it Right This Time."
Lawrence Chernin, the CEO and founder states that: "This site is for women and men who want to find creative and intelligent partners. It is not just for MENSA members or MIT graduates - everyone who values intelligence is welcome to join."
Brainiac online dating for smart singles is just under two years old, and has already attracted over 22,000 members. In addition to the book matching matching, there is also a profile to profile word content match that compares the members description, interests and how they describe an ideal date. Placing a profile, video, searching, blogging and responding to emails on the site is free. The site members come from around the world, though currently most of the members are from the US and Canada. Premium memberships range from $5 for three days, to $50 per year.
###