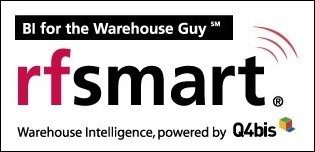 ICS chose to ally with Q4bis based on their excellent reputation and their proven suite of BI products
JACKSONVILLE, Fla. (PRWEB) March 22, 2007
While business intelligence tools typically analyze sales and financial data, the new RF-SMART Warehouse Intelligence Module powered by Q4bis provides a unique view into employee productivity and workload planning in a logistics environment.
Now, a warehouse manager can clearly identify which employees are most productive, what type of work each employee is performing and how efficiently they perform their tasks. Logistics transaction data can be grouped by person, product, transaction or time period, and standard drill downs provide in-depth views of what's happening and when. And being so easy to learn and use, warehouse managers can quickly take action to generate ROI benefit.
"Our new RF-SMART Warehouse Intelligence Module gives our customers easy visibility into the productivity trends, details and relationships of their data - the type of information necessary to understand and improve user productivity," said Jorge F. Morales, President and CEO of ICS. "This tool also helps warehouse managers baseline task time and estimate future work volume and resource needs."
"ICS chose to ally with Q4bis based on their excellent reputation and their proven suite of BI products," Morales also said.
Louis-Philippe Lalonde, Vice President of Marketing and Business Development at Q4bis, said, "We are excited about partnering with ICS on this innovative joint solution. The Warehouse Intelligence Module powered by Q4bis is another great reason to choose RF-SMART."
Customers who saw the new module unveiled at the recent RF-SMART User Group Conference agreed that visibility into employee performance offers significant advantages.
"In a distribution environment, the ability to slice and dice RF-SMART transaction data can play a critical role in increasing a company's overall efficiency," said Jeff Hope, ERP Manager for DJO, LLC. "Analyzing your data with these out-of-the-box views can help you learn where you have productivity issues and determine where to make necessary adjustments."
About RF-SMART
RF-SMART is the leading brand of automated data collection (ADC) and RFID software solutions for Oracle's JD Edwards and Microsoft's Dynamics AX. RF-SMART delivers extensive and configurable functionality, world-class data collection performance, and measurable ROI benefits for distributors and manufacturers around the world. Since 1992 -- and with more than 1,300 installations -- RF-SMART has earned a reputation for technical innovation and high customer satisfaction. Click to learn more about BI for the Warehouse Guy.
About ICS
ICS is an award-winning developer of wireless, mobile and WMS software products as well as a reseller of Oracle's JD Edwards and Microsoft's Dynamics AX enterprise software. For 25 years, ICS has provided manufacturers, distributors and construction firms with powerful technology solutions and consulting services that deliver superior business performance and customer satisfaction ratings near 100%. ICS-developed products include RF-SMART ADC and RFID solutions for JD Edwards and Microsoft Dynamics AX; Logimax software for public warehouse management; and Equential mobile solutions for heavy and highway construction firms. Learn more at icsfl.com.
About Q4bis
Q4bis, Inc. offers a complete, end-to-end business intelligence (BI) suite of products built around Microsoft's tool set: SQL Server 2005, OLAP technology and Reporting Services. Q4bis has gained a reputation for excellence in developing and providing BI solutions to companies globally. The company has developed unique Rapid Implementation Methodology and Proof of Concept techniques to supplement its reputation for interface intuitiveness. These methodologies provide organizations with a framework for successful first-time implementation and ensure outstanding ROI on their BI investment. Q4bis runs on any hardware platform, including Wintel PC and IBM iSeries midrange platforms. For more information, contact Louis-Philippe Lalonde, Vice President, Marketing and Business Development, Q4bis Inc., 8 Corporate Park, Suite 300, Irvine, CA 92606, 949-442-8326, louis.lalonde@q4bis.com. For more information, visit http://www.q4bis.com.
Note to Editor
ICS experts are available to discuss the significance of BI for the Warehouse Guy and how it can increase profitability in a logistics division or business, as well as RFID and automated data collection.