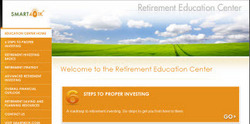 Overland Park, KS (Vocus) July 13, 2010
Smart401k, an expert in providing investment advice for an employee's retirement plan, released two new investment education tools online in July to help retirement investors prepare for the future.
The Smart401k Retirement Education Center and an investment asset allocation tool are available to the public. Scott Holsopple, president and CEO of Smart401k, said he wanted to provide tools that would fit all levels of investor knowledge and encourage personal-level participation.
"It's important to get people engaged in their retirement planning. We cannot sit back and forget about our investments once we have signed up for our retirement plan through work. We have to maintain control and understand how our investments will help us reach our retirement goals," Holsopple said.
The Retirement Education Center will be helpful for financial novices and experts alike. It features basic explanations about retirement planning and general investing and advanced information ranging from income investing to longevity risk strategies.
The asset allocation tool allows users to quickly discover whether their investment style is conservative, moderate or aggressive – and it provides guidance about general fund categories that could benefit the investor.
Both tools are available at Smart401k.com to members and non-members.
About Smart401k
Smart401k is a Web-based investment adviser providing unbiased advice to help employees invest with confidence in their retirement plans at work. Individuals receive personalized investment recommendations based on the funds in their plan and support of professional investment advisers available to answer all investment questions. Based in Overland Park, KS, Smart401k can be found at http://www.smart401k.com and a free guide Six Ways to Take Charge of Your Retirement Investment is available at http://www.smart401k.com/SixWaysToTakeCharge.aspx.
# # #