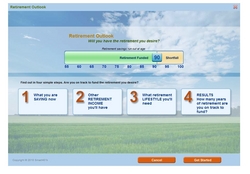 By building a simple-to-use gap analysis tool, we hope to encourage our investors to participate in their retirement planning. Scott Holsopple, president Smart401k
Overland Park, KS (PRWEB) March 17, 2010
Investing is not an exact science. There is not a single tried-and-true solution for every investor. There certainly will be unexpected variables, and investors should know that there is a direct correlation between planning and minimizing the effects of bumps in the financial road. That is where Smart401k's new proprietary Retirement Outlook planning tool can help.
Retirement Outlook, a much-anticipated retirement planning tool, became available for Smart401k clients on March 17. The Retirement Outlook tool takes a multi-faceted, comprehensive approach in helping clients plan for retirement.
In contrast to many other retirement planning tools, Retirement Outlook analyzes retirement investing with consideration for an entire household rather than a singular retirement vehicle. Retirement Outlook takes the following into account: a spouse or partner's income and retirement investments, pension benefits, former employers' plans and additional retirement savings tools like IRAs. The tool is designed to quickly and easily model the effects a change made today will have upon retirement funding in the future. Additionally, users can save modeled results and re-access the information to view or update in the future.
"Financial calculators tend to be either too simplistic to provide much value or so sophisticated it takes hours to accumulate the necessary documentation to create an accurate picture," said Smart401k CEO Scott Revare. "It was our goal to create a tool to answer the important question of whether or not an investor is on track, as well as provide suggestions to improve their current situation and bridge any gaps, all while putting it in terms that seem attainable."
Advisers at Smart401k realized retirement planning is not something most people enjoy, noting that investors, from novice to expert, tend to spend less time planning for retirement than planning for vacation. Having observed the effect a lack of planning can have on an individual's retirement future, Smart401k wanted to provide investors with an easy way to get started. People know they need to save for their retirement, but few people seem to know how much they need to save. The Retirement Outlook tool takes a snapshot of an investor's circumstances then provides an evaluation and suggestions, addressing the issues: is the investor meeting retirement goals, and what changes could an investor make to move closer to their goals?
The Retirement Outlook tool tracks the number of retirement years funded, as opposed to tracking a retirement readiness index or a dollar amount, which many investors deem confusing. Rather than requiring a user to make assumptions about the market and inflation, Retirement Outlook will use Monte Carlo simulation along with the Smart401k investment approach methodology.
"We shouldn't be content to set our retirement planning strategy on the first day of employment and forget about it until it is too late," said Smart401k President Scott Holsopple. "If we have learned anything about investing from the last two years, we need to set goals for our financial well-being and understand how the way we are investing will help us reach our goals. By building a simple-to-use gap analysis tool, we hope to encourage our investors to participate in their retirement planning. Taking just a few minutes to evaluate the lifestyle they want against the potential lifestyle projections, while providing suggestions and alternatives to get on track, may help investors get closer to the retirement they desire."
About Smart401k
Smart401k is a Web-based investment adviser providing unbiased advice to help employees invest with confidence in their employer-sponsored retirement plans. Individuals receive personalized investment recommendations based on the funds in their plan and support of professional investment advisers available to answer all investment questions. Based in Overland Park, KS, Smart401k can be found at http://www.smart401k.com and a free guide "Six Ways to Take Charge of Your Retirement Investment" is available at http://www.smart401k.com/SixWaysToTakeCharge.aspx.
# # #