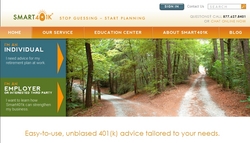 We wanted our website to be easy to navigate and offer an abundance of investing tools. We've tried to make our language more direct to help workers with retirement planning
Overland Park, KS (Vocus) November 11, 2010
Retirement investment advice company Smart401k rolled out a new website last week. The company's web address remains Smart401k.com, but the site has an entirely new look and feel.
"We wanted our website to be easy to navigate and offer an abundance of investing tools. We've tried to make our language more direct to help workers with retirement planning," said Shannon Duncan, vice president of marketing and communication at Smart401k. "Our members and other regular visitors will still be able to find the same retirement planning tools we previously had – and a few helpful additions."
A new hosting service will allow Smart401k to upload more varied and interactive content. But the chief reason for the update was to give users a more simple and logical site navigation experience. The Smart401k Blog, the Retirement Education Center and the Asset Allocator tool are free Smart401k resources that are now readily accessible from the main homepage. Users can now easily schedule a telephone meeting with a Smart401k adviser from the homepage.
Visitors to Smart401k.com will soon have more content to view, including new pod casts, video casts, a press page and more-frequent blog posts.
About Smart401k
Smart401k is a Web-based investment adviser providing unbiased advice to help employees invest with confidence in their retirement plans at work. Individuals receive personalized investment recommendations based on the funds in their plan and support of professional investment advisers available to answer all investment questions. Based in Overland Park, KS, Smart401k can be found at smart401k.com and a free guide Six Ways to Take Charge of Your Retirement Investment is available at smart401k.com/SixWaysToTakeCharge.aspx.
###