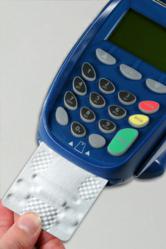 No cleaning card in the marketplace is more efficient
Danvers, MA (PRWEB) May 26, 2011
As concern of failed credit card transactions continues to rise, POS Supply Solutions, Inc. (POS Supply) is now offering Waffletechnology® Smart Card Reader Cleaning Cards, the most versatile card reader cleaning product on the market.
Dirt, oil and contaminants are introduced into a card reader every time a credit card is inserted. Regardless of whether the card reader is reading the magnetic stripe, or the smart chip - dirt, oils and other contaminants will inhibit the proper contact of the reading mechanism against the card. At first this will cause intermittent read errors, but these will get gradually worse until you are unable to use the card reader. It is critical that these contaminants are regularly removed to help avoid card reader errors. To avoid high cost part replacement, Waffletechnology Smart Card Reader Cleaning Cards should be part of a preventative maintenance plan. These cards will prolong equipment life, reduce capital expenditures, equipment downtime and increase customer loyalty with fast efficient transactions.
Waffletechnology® Smart Card Reader Cleaning Cards are designed to remove these contaminants from swipe readers, hotel door locks, access controls, time clocks, chip and pin readers and smart card readers. This product offers superb cleaning and is designed to be used in swipe and dip card readers that use magnetic stripe technology. Inserted like any credit card, this product is a quick and almost effortless means of removing contaminates that cause errors. Waffletechnology products have the unique ability to gently scrub away these potentially damaging dirt particles, and is approved and endorsed by the major manufacturers.
Waffletechnology Smart Card Reader cleaning cards incorporate flexible raised platforms on their top and bottom surfaces. These cleaning platforms are essentially spring-loaded, significantly increasing the pressure applied to the internal components as the card passes through the mechanism. Not only is cleaning pressure increased, but the platforms actually spring up into surface cavities to clean recessed sensors. Flat cards do not touch recessed sensors and, at best, only come into contact with the convex tip of a rounded optical lens.
"No cleaning card in the marketplace is more efficient" said POS Supply's President Stephen Enfield. "Because this technology does such a thorough job, our customers save time and money."
POS Supply offers a comprehensive line of technical cleaning cards for a variety of industries. All products are in stock and available for immediate delivery. Customers can order technical cleaning cards from POS Supply Solutions with total confidence that they are receiving premium quality products at a great price.
About POS Supply Solutions
POS Supply Solutions provides point of sale and transaction supply solutions, serving a full spectrum of hospitality, retail, financial, gas station, medical, wireless and business transaction applications. Established in 1999, POS Supply Solutions' corporate facility is located in Danvers, MA with distribution warehouses strategically located across the United States. Over the past 11 years, POS Supply Solutions has worked with thousands of individuals and companies to ensure they receive the point of sale supplies needed for successful and efficient business operations.
Contact:
Alethea Copelas
Product Marketing Specialist
POS Supply Solutions
(978) 406-4230
acopelas(at)possupply(dot)com
http://www.possupply.com
###