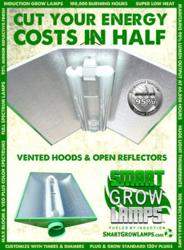 Amazing new induction grow light technology has quickly become an instant game changer to the booming indoor hydro market
Sisters, Oregon (PRWEB) August 07, 2012
Planting year round indoor gardens just got easier thanks to an old lighting technology that has been reintroduced to gardeners. Using Nikola Tesla inspired technology; induction lighting has quickly become the most cost effective lighting solution to power indoor grow rooms and green houses.
Indoor Growers: Cut Your Lighting Costs in half. Now you can provide your plants a full spectrum of quality light and use half the wattage of traditional grow lights. Best of all is each induction lamp is tested for 100,000 burning hours and maintains 90% lumen output at 60,000 hours.
Based out of Central Oregon, SmartGrowLamps.com has pioneered a premier line of induction lighting solutions. Each Smart Grow Lamp maximizes the induction light coverage with high quality reflectors and vented hoods featuring premium, 95% polished reflective aluminum. SmartGrowLamps.com offers many custom options to choose from such as, timers and dimmers, and all orders are custom built to each individual growers indoor gardening needs.
When it comes to simplicity, you won't find an easier grow light to use anywhere. With a simple design, SmartGrowLamps.com features an all in one unit with the ballast and lamp. Plug and Grow. Each lamp uses a standard 120v, 3 prong plug making indoor gardening simple, and easy to yield amazing results.
It's nice to have a back-up plan when it comes to food supply, especially as droughts, floods, or other natural disasters cause food shortages and grab headlines. As indoor gardening becomes more cost effective and easier to set up, more and more indoor grow rooms, hydroponic systems, and even aquaponic gardening using plants and fish together are sure to pop up using energy efficient, low heat induction grow lights. "There is something empowering about growing and harvesting your own fresh grown veggies in the middle of the winter without having to go to the supermarket." - Darrin Dow, Co-Founder
Indoor gardening made easy. "Our lamps were designed with the average grower in mind. Even with little to no growing experience, anyone can easily set up an indoor lighting system that delivers professional results. Just hang them up and plug them in. Our Smart Grow Lamps are that easy." - Jesse Ebeling, Production Manager
Low temperature reduces energy costs even more. Induction lamps burn at 200 degrees vs. 900-1,800 degrees, which results in much lower venting and cooling expenses. With less nutrient & H2O depletion due to evaporation, plants respond better to lower heat. Smart Grow Lamps takes pride in providing lamps with the lowest mercury by 1300%+ vs. other light sources. The smallest amount of PCB output and a 100% recyclable lamp makes induction the clear choice for safe green energy lighting.
It's not uncommon to take a grow room using 6,000 watts, and replace it with 2,500 watts of induction light combined with our powerful reflectors and hoods, and still produce the same amount of yield. With those kinds of indoor grow light energy savings, it's easy to see why induction is gaining fast in popularity!