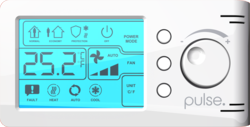 Pulse powered smart thermostats enable greater efficiency, comfort, and convenience
Dubai, U.A.E. (PRWEB) May 21, 2012
Pulse Technologies, a leader in home and building automation solutions and cloud services, has launched a reference design for heating, ventilation, and air conditioning (HVAC) systems. This new reference design includes all of the hardware, firmware, software, and cloud services needed to create end-to-end connected HVAC solutions for residential and commercial buildings.
Pulse's new smart thermostat reference design enables manufacturers in the HVAC industry to fast track development of an extensive array of advanced features such as two-way remote control, mobile apps, energy monitoring, and cloud-based performance optimization to their air conditioning and heating products. This reference design can be used to create smart thermostats for upgrading conventional HVAC systems in existing homes and buildings, or for integration directly into next generation residential and commercial climate control products.
"With the current industry hype about the 'Internet of Things' and smart appliances, manufacturers are looking for proven solutions to immediately address the very real need for intelligent climate control systems," said Jimmy Grewal, co-founder and chief executive officer, Pulse Technologies. "Many HVAC manufacturers find the task of developing software and cloud services both expensive and time consuming, but we are here to provide them the building blocks they need to get to market quicker and cheaper than if they were to build it themselves."
Licensees can expand beyond smart thermostats for HVAC control as the Pulse platform has support for intelligent lighting, motorized window treatments, energy metering, fault management, scheduling, scenes, multi-protocol integration, and rich application programming interfaces (API). Products integrating multiple building automation protocols such as Z-Wave and KNX have already been developed based on the Pulse platform, and Pulse continues to expand protocol support in its reference designs to address the requirements of its partners.
The Pulse platform has been under development for more than seven years, with a proven track record of five years of commercial deployment in projects around the world. By leveraging the Pulse software platform, licensees can offer rich control, monitoring, and integration capabilities at price points that appeal to both consumers and professional customers alike.
Availability
The Pulse smart thermostat reference design is available now and additional details are available on Pulse's website: http://pulse.ae/.
About Pulse
Pulse has a range of technology building blocks for manufacturers who desire to add advanced communication, monitoring, and control capabilities to their products and solutions. Pulse-powered products are multi-protocol, scalable, cost effective, and secure. The Pulse software platform is a field-proven modular solution that adapts to various types of applications: from home automation to smart cities, smart metering to intelligent appliances, stand-alone devices to cloud-connected services. The robust architecture developed by Pulse provides flexibility without compromising performance, reliability, footprint, and product lifecycle. Based in Dubai, United Arab Emirates, the company has raised more than $8 Million from investors including Intel Capital, Intel's global investment and M&A organization.
Pulse Media Relations
E-mail: media(at)pulseliving(dot)com
Tel: +971 4 8121450