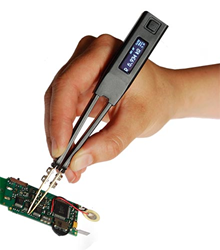 Pen-sized, 1 Oz affordable LCR-meter simplifies PCB testing and component identification
Waterloo, Ontario (PRWEB) April 29, 2015
Being on the market for slightly more than a year, LCR-Reader, the latest model based on previously released Smart Tweezers LCR-meter, is quickly gaining its market share.
With extremely user-friendly interface, high accuracy and the capability to test Surface Mount Devices without any set up required, LCR-Reader is an ultimate tool for professionals that design, make or repair PCBs. Its lightweight design and USB charging makes the device going nearly unnoticed in a bag or pocket. In the last ten years, Smart Tweezers LCR-meters have become a worldwide LCR-meter of choice for its ergonomic design and high accuracy that cuts down on unnecessary work while testing and troubleshooting Surface Mount Technology.
"We are quite happy with the sales progress made by LCR-Reader. It started slow, but due to low price and high reliability it caught up with Smart Tweezers sales in the last few months. Despite lower accuracy and limited functionality the device covers main needs for testing Surface Mount Devices and PCBs. In addition it performs much better for high value capacitors exceeding 1 mF which require manual test mode from ST-5S, the latest model of Smart Tweezers." says Michael Obrecht, a Director at Siborg Systems Inc.
Currently LCR-Reader as well as Smart Tweezers LCR-meter are available internationally from Siborg Systems Inc and its distributors. Both devices are sold directly by Siborg Systems Inc via Amazon in the United States, Canada, United Kingdom, Germany, Italy, France and Spain. It reduces delivery delays and simplifies customs and duty processing.
We recommend our distributors:
Van Device Ltd.,
9-10-202 Nihonbashi Kobunacho
Chuo-ku TOKYO, 103-0024 JAPAN
Tel +81-3-5652-2888
Fax +81-3-5652-2889
Contact:Yukari Nemoto
nemoto (at) vandevice (dot) co (dot) jp
CV. KT INTERNATIONAL
Komplek Dian Centre C12
Nagoya Batam 29433 - Indonesia
Sales : 62 778 432986 , 423775
Acc : 62 778 432976
Fax : 62 778 422731
Mobile : 62 812 7027699
Email : tamsir(at)ktisolution(dot)com
Email2 : info (at) ktisolution(dot)com
CF System Technology Sdn Bhd
No. 43& Jalan Section 1/28, Taman Kajang Utama, 43000, Kajang
Selangor Darul Ehsan, Malaysia.
Telephone 603-87405207
Fax 603-87374986
Contact Person : Mr Raymond Lau We-Han
raymond (at) cfsystem (dot) com (dot) my
peize (at) cfsystem (dot) com (dot) my
Managing Director : Mr. Lau Yu Han
Web www (dot) cfsystem (dot) com (dot) my
Lokmita, UAB
Taikos 141
Kaunas LT-51132
Lithuania
Phone: +370 37 351 729
Fax: +370 37 351 729
Email: info(at)lokmita(dot)lt
SPE Group
Novosibirsk, Akademgorodok, 4а Inzhenernaya Street, Suite 212
Phone/Fax:: (383) 330-82-95
Contact: Pavel Fedorov
fedorov (at) spegroup (dot) ru
www (dot) spegroup (dot) ru
Import-Export Dept.
INDOCHINA EQUIPMENT AND ACCESSORIES.,JSC
No.1 - LK6B, MoLao Urban, HaDong Dist, Hanoi, VN
Tel: (+84)-4-7 303 5666
Fax: (+84)-4-7 303 4666
Contact Jessica (Ms.)
Mobile: +84-904.766.151
E-mail: info (at) dongduong-vn(dot)com
Skype: Jessica.nguyenngat
Website: www(dot)dongduong-vn(dot)com/
indochina-vn(dot)com/
LCR-Reader was released by Siborg Systems Inc. in late 2013 as a affordable alternative e to the popular Smart Tweezers LCR-meters. The Smart Tweezers success is due the design; a small LCR-meter integrated with gold-plated probes in a nearly pen-sized device that can be operated with only one hand. LCR-Reader and Smart Tweezers revolutionize troubleshooting and testing of the Surface Mount Technology. Once a component is contacted by the probes, LCR-Reader will automatically detect the component type of and best test parameters providing the highest accuracy eliminating set up requirements. The gold-plated probes assure good contact grasp on components, that can be mounted on a PCB or loose, to 0.3mm or a 0201 size. The ability to measure components without any set up results in shorter time wasted evaluating component values.
Smart Tweezers is used by many world renowned high-tech institutions and professionals globally. The latest model ST-5S offers higher accuracy of 0.2%, and includes a NIST traceable calibration certificate which is necessary for companies requiring their test equipment calibrated annually. Highly flexible menu allows customization for specific measurements; parasitic offsets, variable tolerances of 1, 5, 10 and 20%, and variable test signals.
Both devices include a rechargeable Li-Ion battery and utilize a four wire connection from the probes to the PCB reducing the noise and improving the accuracy.
Visit the Smart Tweezers Blog for all the latest news about Smart Tweezers and the LCR-Reader.
Established in 1994, Siborg Systems Inc. is a source of engineering software and hardware tools for semiconductor and electronics industry. Located in the city of Waterloo, Ontario, Canada, it enjoys being part of the local world-renowned high-tech community.
For more information please contact:
Siborg Systems Inc
24 Combermere Crescent
Waterloo, Ontario N2L 5B1
Canada
Tel 519-888-9906
Fax 519-725-9522
siborg (at) siborg (dot) ca