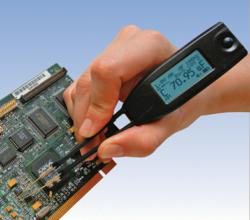 Blue-tooth communication port allows to transfer measurement data from Smart Tweezers to a PC for further processing.
Waterloo, Ontario (PRWEB) June 30, 2013
Popular LCR-meter Smart Tweezers is recognized internationally as an easy-to-use and professional quality tool for electronic measurements in surface mount technology. It has just become more powerful due to a new feature that has been implemented recently: blue tooth communication port connecting the LCR-meter and a PC allowing to transfer and record measurement data.
This feature is crucial for incoming electronic component control and for keeping logs of performed measurements. Once the connection is established between PC and LCR-meter, virtual serial port is established and Smart Tweezers start sending measurement data to the PC in a simple text format containing the time stamp, component type and component value thus allowing to create a log file. The data then can be easily captured in a spreadsheet such as Excel, and/or in a database for further processing as required.
"This feature is very important in a number of applications," says Michael Obrecht, Director of Research and Development at Siborg. "Currently we only support the simplest plain text format but we are ready for development of a custom-made interface according to end-user specifications. The main reason for Smart Tweezers' popularity is quick and highly accurate evaluation of tiny SMT components. Accuracy level of about 0.2% is usually available only from expensive LCR-meters that require tedious setup prior to measurement."
Smart Tweezers is an LCR-meter integrated with a set of tweezers. The LCR-meter is designed for component evaluation on a production line, PCB impedance testing, and component sorting. Automatic recognition of component type (L, C or R), makes the tool especially suitable for identifying Surface Mount Devices.
Fully automatic LCR-measurements allow the operator to focus mainly on the component under test that makes testing, sorting and evaluation of components more efficient.
The following is the summary of Smart Tweezers features:
•Automatic measurement of L-C-R, and Equivalent Series Resistance
•Accuracy of 0.2%
•Li-Ion Battery with USB charger connector
•Diode/Continuity test
•Test Signal of 0.25, 0.5 and 1 Vrms
•Component Sorting with 1, 5, 10 and 20%
•Internal Parasitic Offset Subtraction
•Ability to handle components as small as 0201 size
•56 gram weight
"If you do any work on a PCB, Smart Tweezers, once used, become indispensable," says Obrecht at Siborg.
Established in 1994, Siborg Systems Inc. is a source of engineering software and hardware tools for semiconductor and electronics industry. Located in the city of Waterloo, Ontario, Canada, it enjoys being part of the local world-renowned high-tech community.
For more information: Siborg Systems Inc, 24 Combermere Crescent, Waterloo, Ontario N2L 5B1, Canada
Tel: 519-888-9906;
Fax: 519-725-9522;
Web: http://www.smarttweezers.ca