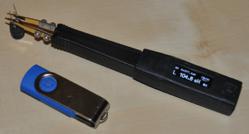 LCR-Reader: Long awaited for cheaper version of Smart Tweezers LCR-meter to be released in summer 2013
Waterloo, Ontario (PRWEB) April 04, 2013
LCR-Reader, prototype of which is shown on the right, is very much alike Smart Tweezers LCR-meter in terms of ways of use and the design concept. On the other hand, in contrast to Smart Tweezers, LCR-Reader is considerably smaller in size and lower in weight as well as in the manufacturing cost and therefore in price.
LCR-Reader is almost twice as light as Smart Tweezers ST-5 but also powered by Li-Ion rechargeable battery with a micro-USB charger connector. Basic accuracy of the new device is about 1% which is not as good as that of ST-5 (0.2%) but about the same as that for ST-2. It also has gold-plated stainless steel tweezer tips. There is just one button that turns the device on and allows to change the measurement mode by a single button push: A (Automatic), L (Inductance), C (Capacitance), R (Resistance), and ESR (Equivalent Series Resistance). All measurements are done automatically, test signal amplitude is fixed at 0.5 Volts, test frequency is automatically adjusted according to the component type and value. Similarly to Smart Tweezers, LCR-Reader in addition to the the main impedance component L, C or R it will also show the parasitics, such as R for L, C and C for R.
An example showing measurement of an inductance is shown on a picture to the right, where AM indicates that the measurement is made in Automatic Mode, Rs indicates parasitic series resistance of the inductor, 10 kHz is the test frequency at which the measurement is made, L indicates that the type component measured is an inductor, 104.8 uH indicates the inductance value in micro-Henries, and the battery sign shows the battery charge level.
Among features that were available in ST-5 and previous models the following features are discontinued:

Voltage measurement
Offset subtraction
Component sorting
Diode test
Continuity test
LCR-Reader is planned to be available for purchase in July-August 2013. Estimated sales volume is about fourfold compared to the latest Smart Tweezers model ST-5.
Follow the latest news at Smart Tweezers Blog. You may also watch a brief video of Smart Tweezers LCR-meter introduction on Youtube.
Be the first to own LCR-Reader, call today to pre-order and get 20% discount. A detailed comparison of features of the LCR-Reader and previous models is presented in this Smart Tweezers Comparison Table
Feature Summary

Automatic measurement of Inductance, Capacitance, Resistance and ESR
Basic accuracy of 1%
Automatic selection of the best range
Lithium-Ion battery and USB charger connection port
Weight of 28 gramms (1 oz)
About Siborg Systems Inc:
Established in 1994, Siborg Systems Inc. is a source of engineering software and hardware tools for semiconductor and electronics industry. Located in the city of Waterloo, Ontario, Canada, it enjoys being part of the local world-renowned high-tech community.
For more information: Siborg Systems Inc, 24 Combermere Crescent, Waterloo, Ontario N2L 5B1, Canada
Tel: 519-888-9906
Toll Free:
Fax: 519-725-9522
Web: http://www.smarttweezers.ca