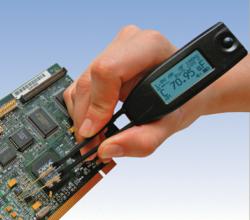 Smart Tweezers is a unique LCR-meter offering a combination of high precision, quality and ease-of-use
Jakarta, Indonesia (PRWEB) May 31, 2013
Canadian Siborg Systems Inc. and PT Mizuki International based in Becasi, near the capital, Jakarta, have agreed to join their efforts in marketing Smart Tweezers LCR-meter in Indonesia and neighboring Asian countries.
PT Mizuki International is a known in Indonesia supplier specializing in various products and machinery as well as consumables for electronic manufacturing industry.
"I came across Smart Tweezers LCR-meter a few times at various trade shows and internet sites" says Nathan Jack, Sales Manager at PT Mizuki International, "Our company main job is to supply electronics manufacturing industry with most efficient tools, equipment and top quality consumables. Smart Tweezers is a unique LCR-meter offering a combination of high precision, quality and ease-of-use and that it is not yet widely present in Indonesian market and therefore has has a good potential here."
Smart Tweezers LCR-meter are exceptionally useful for handling SMT components which are usually small and have very small leads. One of the big problems with SMT components is that they are usually too small to be labeled so is is easy to lose track of parts and their values. This is when Smart Tweezers come-in handy. With just one hand, this device quickly measures all passive types of SMT components, such as Inductance, Capacitance, and Resistance.
The LCR-meter automatically determines the component type, the best range and signal frequency for the highest possible accuracy. It displays the component type, test conditions and measurement results.
"Smart Tweezers main advantage is highly accurate and virtually instantaneous evaluation of SMT down to 0201 size," says Michael Obrecht, R&D director at Siborg. "Its basic accuracy level of 0.2% is usually only available from expensive bench-type LCR-meters requiring tedious and time consuming setting-up procedures. At the present time we are completing development and a pre-production of our new budget model of Smart Tweezers: LCR-Reader."
Smart Tweezers LCR-meter is designed for a on-board impedance testing, production line component evaluation, and SMD components sorting. It is an industry proven tool used by many high-tech companies worldwide, indispensable for PCB debugging.
Summary of features of the ST5 model:

L-C-R and ESR measurements
Basic Accuracy 0.2%
USB Charger and Li-Ion Battery
Continuity and Diode Polarity
Test Signal of 1, 0.5 and 0.25 Vrms
Component Sorting
Parasitic Offset Removal
Measurement of Dissipation and Quality Factor
Fore more information please refer to Smart Tweezers Manual. Latest news are available in our Smart Tweezers Blog.
About Siborg Systems Inc:
Established in 1994, Siborg Systems Inc. is a source of engineering software and hardware tools for semiconductor and electronics industry. Located in the city of Waterloo, Ontario, Canada, it enjoys being part of the local world-renowned high-tech community.
About PT Mizuki International:
PT Mizuki International was founded in 2004 primarily as a trading company specializing in the quickly growing Indonesian electronics manufacturing industry. The company is an authorized agent for Senju lead free solder material and manufacturing equipment. The company also supplies the following products: used CNC machines, Sony adhesive bond, Toscut anti dross lead free product, Nachi opp tapes, Hamachi opp tapes, Niji protection tapes, Sachihata ink and solvent, Ricoh barcode ink ribbon.
In the Factory Equipment Category we carry: Kikusui, Hioki, Minato programmer, Hepa clean room filters, as well as Buy and Sell used SMT and AI Machines: Panasert, Samsung, Sanyo, Juki, Yamaha, Siemens along with the spare parts, feeders, controllers, etc.
The company has its own Free Tax Warehouse Facilities.
For more information please contact:
Nathan Jack, Sales Manager
PT Mizuki International
Villa Mutiara Block AA-11
Bekasi 17550, Cikarang
Indonesia
E-mail: nathan_jack75 (at) hotmail.com
Tel +62-21-89906692/3
Fax +62-21-89906694