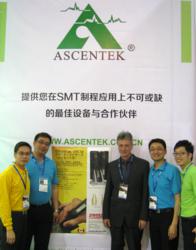 Siborg Systems Inc from Canada, AscenTex from Taiwan and GoldTek from China join efforts to market a new model of Smart Tweezers LCR-meter in Asia.
Shanghai, China (PRWEB) April 30, 2013
LCR-Reader, is a newly designed LCR-meter that features same basic functionality as the Smart Tweezers LCR-meter along with significantly reduced weight and price.
For the first time LCR-reader was presented to the public at Nepcon Shanghai Trade Show, the biggest electronics manufacturing show in China with about 20,000 visitors and hundreds of exhibitors including the world leaders in Surface Mount technology: Panasonic Factory Solutions, Fuji Machine Manufacturing, Sony, Hitachi, Heller and OK International.
The new device was well received by Nepcon participants as well as by Siborg's distributors GoldTek and AscenTek in China and AscenTex in Taiwan, see pictures on the right.
"It is very important to be able to reduce price of LCR-Reader compared to the Smart Tweezers LCR-meter," says Jason Yeh, Sales Manager at GoldTek, "We hope to double our sales with the introduction of the new affordable model."
The prototype of LCR-Reader is shown on the picture to the right. It is about half the weight and as well as half the manufacturing cost and therefore the price of that for the Smart Tweezers LCR-meter.
It is also powered by rechargeable Li-Ion battery with a micro-USB cable connection. The new device has basic accuracy of about 1% that is about the same as that for previous model ST-2. It is controlled by just one button that allows to change the measurement mode: A (Automatic), C (Capacitance), L (Inductance), R (Resistance), and ESR (Equivalent Series Resistance). All measurements are done at test signal amplitude of 0.5 Volts rms, test frequency is selected automatically based on the component value and type. In addition to the main impedance component L, C or R, LCR-Reader also shows the parasitic impedance component, such as R for L, C.
The following features available in previous models of Smart Tweezers are discontinued:

Offset subtraction
Voltage measurement
Diode test
Component sorting
Continuity test
LCR-Reader is planned to be available for purchase in July-August 2013. Estimated sales volume is about fourfold compared to the latest Smart Tweezers model ST-5.
Follow the latest news at Smart Tweezers Blog. You may also watch a brief video of Smart Tweezers LCR-meter introduction on Youtube.
Be the first to own LCR-Reader, call today to pre-order and get 20% discount. A detailed comparison of features of the LCR-Reader and previous models is presented in the Smart Tweezers Comparison Table to the right.
Feature Summary

Accuracy of 1%
Automatic measurement of Capacitance, Inductance, Resistance and ESR
Automatic best range
Li-Ion battery rechargeable via USB cable
Weight of 1 oz
About Siborg Systems Inc:
Established in 1994, Siborg Systems Inc. is a source of engineering software and hardware tools for semiconductor and electronics industry. Located in the city of Waterloo, Ontario, Canada, it enjoys being part of the local world-renowned high-tech community.
For more information: Siborg Systems Inc, 24 Combermere Crescent, Waterloo, Ontario N2L 5B1, Canada
Tel: 519-888-9906
Toll Free: 877-823-7576
Fax: 519-725-9522
Web: http://www.smarttweezers.ca
About AscenTex:
Established in 1985, supplies consumables and hand tools for electronics manufacturing as well as high-tech automatic manufacturing machines and inspection systems, along with complete technical support and after-sale service.
For more information in Taiwan please contact:
Ascentex Industry Corp.
7F, No 516, Sec. 1, Nei Hu Road, Taipei 114, Taiwan, R.O.C.
Tel: +886-2-8797-8788
Fax: +886-2-8797-8789
Sales: Eagle (at) ascentex (dot) com (dot) tw
Service: Richard (at) ascentex (dot) com (dot) tw
About Goldtek:
Established in 2001 supplies hand tools and consumables for electronics manufacturing as well as professional technical support and service for SMT equipment.
For more information in China please contact:
GoldTek Co Ltd.
Jason Yeh, Sales Manager
E-mail jason_yeh (at) goldtek (dot) com (dot) cn
10/F,Hua Fu Building, No 76, Shishan Road, New District,
Suzhou, JiangSu Province,P.R.China
Tel: 0086-512-68094260, 68093910, 68092198
Fax: 0086-512-68092198 Ext: 210
Website Address: www (dot) goldtek (dot) com (dot) cn