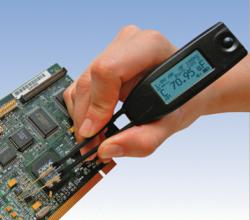 Smart Tweezers is an LCR-meter offering a unique combination of quality, high precision and ease-of-use
Nagoya, Batam, Indonesia (PRWEB) January 31, 2013
Canadian Siborg Systems Inc. and Nagoya based KT International from a beautiful island of Batam have agreed to join their efforts in marketing Smart Tweezers LCR-meter in Indonesia.
KT International is a known supplier in Indonesia specializing in hand tools, various measurement devices, electronic testers and consumables for electronic manufacturing industry.
"Our clients suggested to try Smart Tweezers as an addition to our line of multimeters," says Tamsir, Sales Manager at KT International, "After the trial we concluded that Smart Tweezers is an LCR-meter offering a unique combination of quality, high precision and ease-of-use and that it has good market potential in Indonesian market."
Many LCR meters make measurements with limited ranges or inadequate accuracy. Smart Tweezers LCR-meter ST5 includes a Certificate of Calibration traceable to NIST and automatically sets the range, test frequency and even the component type. Most conventional LCR-meters are not suited to measure today's SMT components. In contrast ST5 was designed primarily for measuring SMT components as small as 0201 size which is about 0.3 mm.
Smart Tweezers is more than just an LCR-meter because it measures both the real and imaginary impedance components. This allows the instrument to measure not only the resistance, but series inductance, not only capacitance, but equivalent series resistance (ESR) or dissipation factor D, not only inductance, but DC resistance or Q. It also includes a diode test mode and a continuity beeper.
Adjustable test signal varying from 0.25 V to 1.0 V,enables more accurate in-circuit device measurement without turning on semiconductor junctions when a low test signal is used. On the other hand 1 V test signal improves accuracy in measuring ceramic capacitors, whose capacitance varies with applied voltage. From a newly introduced features it is noteworthy to mention "tolerance mode" that helps to sort components and automatic offset subtraction which improves measurement precision for low-valued components.
Smart Tweezers are an industry proven tool used by virtually all major high-tech companies, indispensable for SMT component sorting, on-board impedance testing and PCB debugging.
Summary of features of the new ST5 model:

Automatic LCR and ESR measurements
Typical Accuracy of 0.2%
Li-Ion Battery and wired USB Charger
Continuity Beeper and Diode Polarity Test
Adjustable Test Signal of 1, 0.5 and 0.25 Volts
Sorting of Components with 1% to 20% Tolerance Levels
Built-in Subtraction of Parasitic Offset
Measurement of both real and imaginary impedance components
Fore more information please refer to Smart Tweezers Manual. Latest news are available in our Smart Tweezers Blog. For previous developments please refer to Smart Tweezers Retrospective.
About Siborg Systems Inc:
Established in 1994, Siborg Systems Inc. is a source of engineering software and hardware tools for semiconductor and electronics industry. Located in the city of Waterloo, Ontario, Canada, it enjoys being part of the local world-renowned high-tech community.
About KT International:
KT International was founded in 2003 by a team of professionally trained engineers and salespeople who had a vast experience and product knowledge in the electronics manufacturing industry.
KT International strives to be the market leader in the industry by maintaining the highest standard in customer service and product quality.
KT International is proud to be the distributor of the following companies and brands in the Indonesian market:
Japan Unix, Kenta, Fisnar,Vessel, Extech, Flir, Static Solutions, Engineer, Tesa, Bofa, Otsuka, Dickson, Dr. Storage, Apiste, Wilco, Standard Gage and others.
KTI supplies the following products/services/solutions:
Robotic Solder, Dispensing, Screws and Fasteners, Instruments, Scanning, Metrology Tools and Storage, ESD safe tools, Pneumatic, Repair and Service, Customized Services, Cleaning Solutions
For more information please contact:
Tamsir, Sales Manager
CV. KT International
Komplek Dian Centre C12
Nagoya Batam Indonesia
Tel: 62 778 432976 , 432986
Fax: 62 778 422731
Mobile: 62 812 7027699
E-mail: tamsir (at) ktisolution (dot) com
Web: www (dot) ktisolution (dot) com/