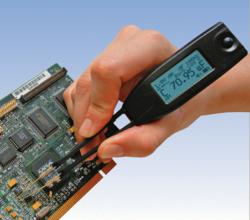 Light weight and unique mechatronic design of Smart Tweezers make it easily usable by just one hand leaving the other free for for other tasks
Kajang, Selangor, Malaysia (PRWEB) January 30, 2013
Canadian Siborg Systems Inc. and Selangor based CF System Technology from Malaysia have agreed to work together to bring Smart Tweezers LCR-meter to South-Eastern Asia.
CF System Technology Sdn Bhd is a privately held limited company established in 1995 under the former name of CFS Technology. They are specializing in automation systems, electrical and electronic equipment, machine spare parts ( AI, SMT and AOI ), industrial supply ( ESD-safe equipment) repair and reconditioning of AI and SMT display boards.
"Smart Tweezers is a fine match to our line of products", says Lau Yu Han, the Managing Director at CF System, "We supply equipment for production, rework and repair of Printed Circuit Boards (PCBs) packed with small SMT components that are virtually impossible to debug with the use of conventional LCR-meters. Light weight and unique mechatronic design of Smart Tweezers make it easily usable by just one hand leaving the other free for for other tasks."
Smart Tweezers are an industry proven tool, indispensable for SMT component sorting, on-board impedance testing and PCB debugging.
Features of the new ST5 model:

Automatic LCR, and Equivalent Series Resistance (ESR) measurements
Accuracy of 0.2%
USB Charger, Li-Ion Battery
Continuity and Diode test
Test Signal of 0.25, 0.5 and 1 Volts
Component Sorting with Variable Tolerance Levels
Built-in Offset Subtraction
Measurement of primary and secondary impedance components
Latest news are available in our Smart Tweezers Blog.
About Siborg Systems Inc:
Established in 1994, Siborg Systems Inc. is a source of engineering software and hardware tools for semiconductor and electronics industry. Located in the city of Waterloo, Ontario, Canada, it enjoys being part of the local world-renowned high-tech community.
About CF System:
CF System Technology Sdn Bhd is a known supplier of the following products and services:

ESD-safe Solutions
Sales and modification of Auto Insert (AI) and SMT Equipment
Design, fabrication, installation and commissioning of automation systems according to customer specifications and requirements
Recondition, Repair
SMT splicing Tape , brass clip , splice tools , cutting tools , stencil clean roll and wiper cloth , high-temperature adhesive tape (Kapton tape) and SMT filter elements
Full range of AI common and uncommon parts, wide range of SMT nozzles, various brands of feeder accessories and other Automation Systems
SMT machine spare parts: Servo Motor Box, CPU Board , JUKI Electromagnetic valve Laser, Servo Driver, Display Board for JUKI 750 / 760 Series , JUKI 2000 SERIES , Panasonic 202,212,402 , Sony E1000, F130 , DEK printing system GS / GXS / LT / ELA / Horizon Infinity
Cleaning products from Dupont Sontara, MircoPure, surface-mount devices (SMD) and electronic equipment
For more information please contact:
CF System Technology Sdn Bhd
No. 43& Jalan Section 1/28, Taman Kajang Utama, 43000, Kajang
Selangor Darul Ehsan, Malaysia.
Telephone 603-87405207
Fax 603-87374986
Contact Person : Mr Raymond Lau We-Han
raymond (at) cfsystem (dot) com (dot) my
peize (at) cfsystem (dot) com (dot) my
Managing Director : Mr. Lau Yu Han
Web www (dot) cfsystem (dot) com (dot) my