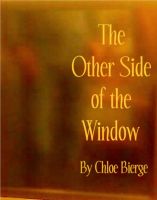 On Monday morning I SmartAssed antidepressants. SmartAss.com was my new Google. It matched my mood these days.
Laughlin, NV (PRWEB) June 08, 2011
In "The Other Side of the Window" by Chloe Bierge, Savannah Bloom dresses like Dolly Parton, has an irreverent attitude, and is on a mission to find that elusive big story. But she is haunted by OCD (Obsessive Compulsive Disorder), is being stalked over the internet, and the doctor she turns to for help places her in danger. And so what does she do? She turns to SmartAss.
The following is an excerpt from the book,"On Monday morning I SmartAssed antidepressants. SmartAss.com was my new Google. It matched my mood these days. I was writing a service piece on antidepressants that I had just pitched to Lambert because, as is often the case with journalists, I needed to know more than what was in print." -- Savannah Bloom in The Other Side of the Window by Chloe Bierge.
Interestingly, the SmartAss search is used in The Other Side of the Window in an authentic way. The novel, which leans toward "faction," deals with a medical condition and uncovers little-known real medical research to unravel one of the story's mysteries -- why did Savannah develop OCD shortly after getting sick and why didn't antidepressants work well for her or for the vast majority of patients who take them? And while Savannah digs deep into the internet to solve her medical problem, she meets up with another mystery she must figure out: who was watching her every move on her computer?
Bierge had her main character use SmartAss rather than Google, because SmartAss is easier to use and faster than Google. Even though it's only a difference of seconds for search results to come up, users like Bierge, have found out that the wait can be frustrating.
Another user experience Bierge likes is one that SmartAss excels in, which is getting actual search results and not results that companies are paying for people to see. SmartAss prides itself in not having sponsored results. SmartAss also opens a new window for each selected result making user experience simple and light. Bierge finds the convenience and ease of not having to open and reopen windows to see selected search results a time saver. Lastly, the flagship donkey and his funny comments are sure to complete the humorous and informative experience for all users – Savannah being a prime example of a user who found the donkey highly amusing.
About SmartAss.com
SmartAss is a witty new search engine similar to Google but with a lot more attitude. It features a Talking Donkey that makes silly remarks, a contest for those who like to make a few extra dollars, the coolest free email address on the web and best of all, it delivers crisp concise search results without any sneaky sponsored advertising links. http://www.SmartAss.com.
# # #