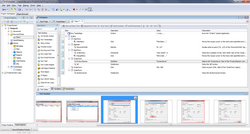 We have been using TestComplete for years and have seen it bring many values to our testing teams. TestComplete 8.0 makes it easier to troubleshoot our issues and find necessary information for scripting with its new configuration options
Beverly, MA (Vocus) July 28, 2010
SmartBear Software announces the new major release of AutomatedQA TestComplete™ 8.0. This comes on the heels of last week's news that SmartBear is the new name for AutomatedQA, Smart Bear Software and Pragmatic Software. (See announcement)
TestComplete 8.0 adds major new capabilities that boost productivity of individual users and further streamline enterprise-level automated testing. Overall, more than 120 new features and enhancements have been added, driven by TestComplete's global community of thousands of loyal users.
Ian McLeod, EVP Products at SmartBear Software said, "Listening to our community of users and adding features that are most important to them is key for our product development strategy. We continue to advance our state-of-the-art tools to help novice users get up and running quickly and at the same time add the advanced features our more experienced users continue to get jazzed about, at a price that is unmatched in the industry."
Automated QA TestComplete 8.0 adds more automation for all categories of users. We at SmartBear understand the daily pressures of test teams and engineers, and challenges that new users face with unfamiliar tools. With this in mind, the TestComplete 8.0 interface has been enhanced specifically for first-time testers to get up and running more quickly. At the same time, new advanced features play into the hands of power users helping them create sophisticated automated tests with point-and-click wizards. The new Test Visualizer and the Data-driven Test Wizard make the set up of complicated tests accessible to everyone.
TestComplete 8.0 adds major new features that enhance user experience and enterprise-class automated testing:

Test Visualizer –TestComplete 8.0 automatically captures screenshots during test recording and playback. This enables quick and intuitive comparisons between expected and actual screens during test.
New Automation for Data-Driven Tests – Creating Data-driven tests is now highly automated using a new wizard to access data sources in databases, Excel and CSV files. Users can create Data-driven tests without scripting, which significantly improves test productivity.
Support for new platforms and technologies – Users can now perform automated testing of native and managed applications built with Microsoft Visual Studio 2010 and the .NET Framework 4. TestComplete 8.0 also supports new Web technologies and platforms such as Silverlight 4 and Firefox 3.6.
SoftwarePlanner and other defect tracking tools - TestComplete 8.0 is better integrated with SoftwarePlanner, SmartBear's development and test management software, featuring new capabilities to generate reports based on automated test runs, and automatically log defects. This version also introduces new integration with other defect-tracking tools, Atlassian JIRA and Axosoft OnTime, enabling users to post defects directly from the TestComplete user interface.
Corey Anderson, Development Manager at Schweitzer Engineering Laboratories (SEL) said, "We have been using TestComplete for years and have seen it bring many values to our testing teams. TestComplete 8.0 makes it easier to troubleshoot our issues and find necessary information for scripting with its new configuration options."
Visit http://smartbear.com/testcomplete-8-whats-new for a full list and details of enhancements.
Availability
AutomatedQA TestComplete 8.0 is available immediately. To purchase or download a free 30-day trial, visit http://smartbear.com/testcomplete.
About SmartBear Software
SmartBear Software provides enterprise-class yet affordable tools for development teams that care about software quality and performance. Our collaboration, performance profiling and testing tools already help more than 75,000 developers and testers build some of the best software applications and websites in the world. Our users can be found in small businesses, Fortune 100 companies, and government agencies. For more information about SmartBear Software, our award-winning tools, or to join our active community of developers and testers, visit http://www.smartbear.com.
Media and Community Contact:
Alex Forbes
SmartBear Software
978-236-7918
###