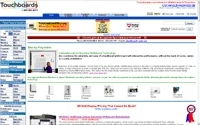 Long Branch, NJ (PRWEB) July 23, 2009
In spite of the prevailing climate of economic hardship that continues to loom across the United States economy, it has been another good year for InterWorld Highway LLC. This technology reseller, located in Long Branch, NJ, at the Jersey Shore, has again, for the 3rd year in a row, made the Internet Retailer's Top 500 list. InterWorld Highway runs the two very popular websites, Tequipment.NET and Touchboards.com. Tequipment.NET is an industry leader in the sale of Test and Measurement Instrumentation. Touchboards is known worldwide for their huge selection of interactive/smart boards.
This year, InterWorld Highway has risen to Number 311 on this Top 500 list. This ranking is based on the measurement and ranking of online retailers based primarily on Internet generated sales on a year-to-year basis. This ranking, predicated on 2008 sales dollars, moved up four notches from #315 in 2007. InterWorld Highway, LLC has also received a ranking 35 out of 500 in the classification of Computers and Electronics Sales.
This past year's performance has been analyzed and confirmed independently by Internet Retailer, a National monthly business magazine based in Chicago. These rankings are based upon quantitative sales dollars rather than opinion. InterWorld Highway did $25 million in sales for 2008. While 2009 may be difficult for many companies, InterWorld Highway's sales continue to grow. Both the Tequipment.NET and Touchboards continue to maintain double digit growth as compared to last year.
As stated by the President of InterWorld Highway, Richard Wagner, "While the company continues to grow in 2009, it is not growing at the same rate it did in previous years. But all things considered, we are happy with the results. We are forecasting a strong close in the third and fourth quarters this year and an even better 2010. The stimulus package is a great opportunity for us. The educational funding will help schools purchase the interactive whiteboards offered by Touchboards and the construction ready projects will be a big boost for our Test and Measurement division, Tequipment.NET."
It is anticipated that strong sales will continue throughout 2009, into 2010, and beyond. Sales are still up for this reseller, and there are no signs of profitable activity stopping or even slowing down. InterWorld Highway's online marketing strategy seems to have proven again and again to be a successful program throughout the years. This is due to a user-friendly webpage and ordering system, which is supported by a knowledgeable and sizeable customer service and sales team, as well as also utilizing an effective Search Engine Optimization strategy.
In short, none of this success seems to have been random. Success for Touchboards.com and Tequipment.NET appears to have been about strategy and opportunity, not luck. InterWorld's owners, Richard Wagner and Evan Cirelli, have always taken a hands-on position when it comes to sales and promotions, and they have a proven track record of success behind them. With their roots in educational sales and marketing, this team has assertively directed this company in a path that consistently continues to be profitable.
The future will hopefully get better and brighter. With hints of an economic recovery starting to show and the stimulus package and affiliated programs beginning to take hold, the performance of Touchboards and Tequipment.NET should only continue to improve at an accelerated pace. If InterWorld Highway, LLC has continued to show growth and promise during these difficult economic times, we can only anticipate that they will continue to grow at faster pace once the economy begins to improve. This is a growth Company to watch.
About Touchboards and Tequipment:
InterWorld Highway LLC is an internet based company located in Long Branch NJ. The company was founded in 2003, with very little capital and an aggressive plan for growth. In 2008 the company generated 25 million in sales and employees 40 people.
Contact:
Tracy Craig, director of public relations
InterWorld Highway LLC
732-278-2571
###