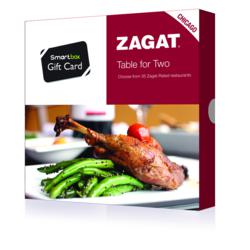 Status is out, social capital is in
New Brunswick, NJ (Vocus/PRWEB) March 30, 2011
Smartbox, the premiere international gift-experience company, is highlighted in Advertising Age Magazine this week focusing on the current 'experiential' gifting trends. Citing 'significant upticks in interest', Advertising Age Magazine focused on the rising trend of giving the gift of experience because they 'allow creativity for the giver and flexibility for the recipient'.
David Meyers, Smartbox CEO for North America, explained that the company is committed to establishing a strong retail presence. "Retail is a priority for us," Meyers told Advertising Age Magazine reporter Beth Snyder Bulik. "That's the linchpin of the company."
Today, consumers view gifting differently than they had in the past.
"People aren't looking for stuff anymore, they're looking for experiences," said Susan Menke, VP-behavioral analyst at Mintel. "It's the new bragging rights. Status is out, social capital is in…you can post pictures of your African-safari experience, but you can't put up a picture of your Mercedes. That's tacky."
For the full story, please click Advertising Age Magazine.
Already an international gift box leader, Smartbox is available in 20 countries across the world. The key to success has been in the simplicity of the process. Begin by choosing a budget ranging from $49 to $369 and then choose one of the 7 available categories.
The available gift experiences are:

Zagat Smartbox Table for Two – dinner for the recipient and a guest at their choice of any participating Zagat-Rated restaurant in one of the following cities: Chicago, Los Angeles, New York, San Francisco or Washington D.C. ($99)
Gourmet Retreats – a one night stay in lavish accommodations throughout the U.S., sumptuous five-course dinners, in-room massages, and plush king size suites. ($369)
Adrenaline – hundreds of exhilarating activities to choose from, including: climbing a slippery frozen waterfall, racing around a track on a motorcycle and more. ($299)
Charming Getaways – one-night stays in historic homes, rustic ranches or quaint Victorian Inns. ($129)
Serenity – health and wellness treatments from Vichy showers and ice cream pedicures to champagne manicures and lemongrass body scrubs. ($119)
Adventure – an opportunity to rush down an ice tunnel in a bobsled or cruise the sky in an ultralight. ($69)
Fun for All – an activity for two, whether it be an elegant fencing lesson, wine tasting, or a spooky ghost tour. ($49)
For more information on the full Smartbox collection of experience gifts, please visit our website at http://www.smartbox.com/us.
About Smartbox
Smartbox is the next generation of gift cards allowing one to choose from a selection of activities and destinations within a given theme. Smartbox is presented in a gift box featuring a color guidebook with full details of each activity or escape. The recipient selects an experience, makes the reservation directly with the establishment (contact details are provided in the guidebook) and redeems the gift card upon arrival. Currently, Smartbox is available in the Northeast, Mid-Atlantic, Southeast, Great Lakes, Texas & California regions of the U.S.
About Smart&Co
Since its creation, Smart&Co. has grown at an exceptional rate. Having branches in Europe, the U.S., and Canada with its head office near Paris, today it employs more than 1,000 employees. Smart&Co. and its Smartbox gift experiences are specialists in creating interesting trips and leisure activities. Since the founding of the group, more than 5 million Europeans have experienced Smart&Co. In 2004 Smart&Co. was awarded the Oscar for Innovation -- Smart&Co. continues to find new ways of bringing people together for leisure pursuits.
# # #